Become an Exhibitor
Reach thousands of potential
customers at the Florida Realtors
Convention & Trade Expo
Don't miss your opportunity to connect with thousands of Florida's most active and engaged real estate pros when they're primed to do business.
With thousands of attendees, the Florida Realtors Convention & Trade Expo is a prime audience for products and services like yours. The event attracts our most active and engaged members. And many of them say they hold major purchases until the convention so they can explore their options in person.
Exhibitors
Our Expo attracts real estate salespeople as well as brokers and managers, with 80% visiting two or more times. Nearly two-thirds spend more than an hour with the exhibitors, giving you ample time to demonstrate your products and services face-to-face with prospects who are eager to do business.
If you're interested in being an exhibitor, download our prospectus below to review your options., call 407.438.1400 ext. 2455, email exhibit@floridarealtors.org or fax to 407.587.1427.
Act today!
Exhibit space and sponsorships are confirmed on a first-come, first-served basis. 
Click here and download the 2022 Florida Realtors Convention & Trade Expo Prospectus (PDF)
Exhibitor and Sponsor contracts included. Be sure to check the list of available booth spaces on this page before making your selection.
Trade Expo floor plan
Click the map below to enlarge.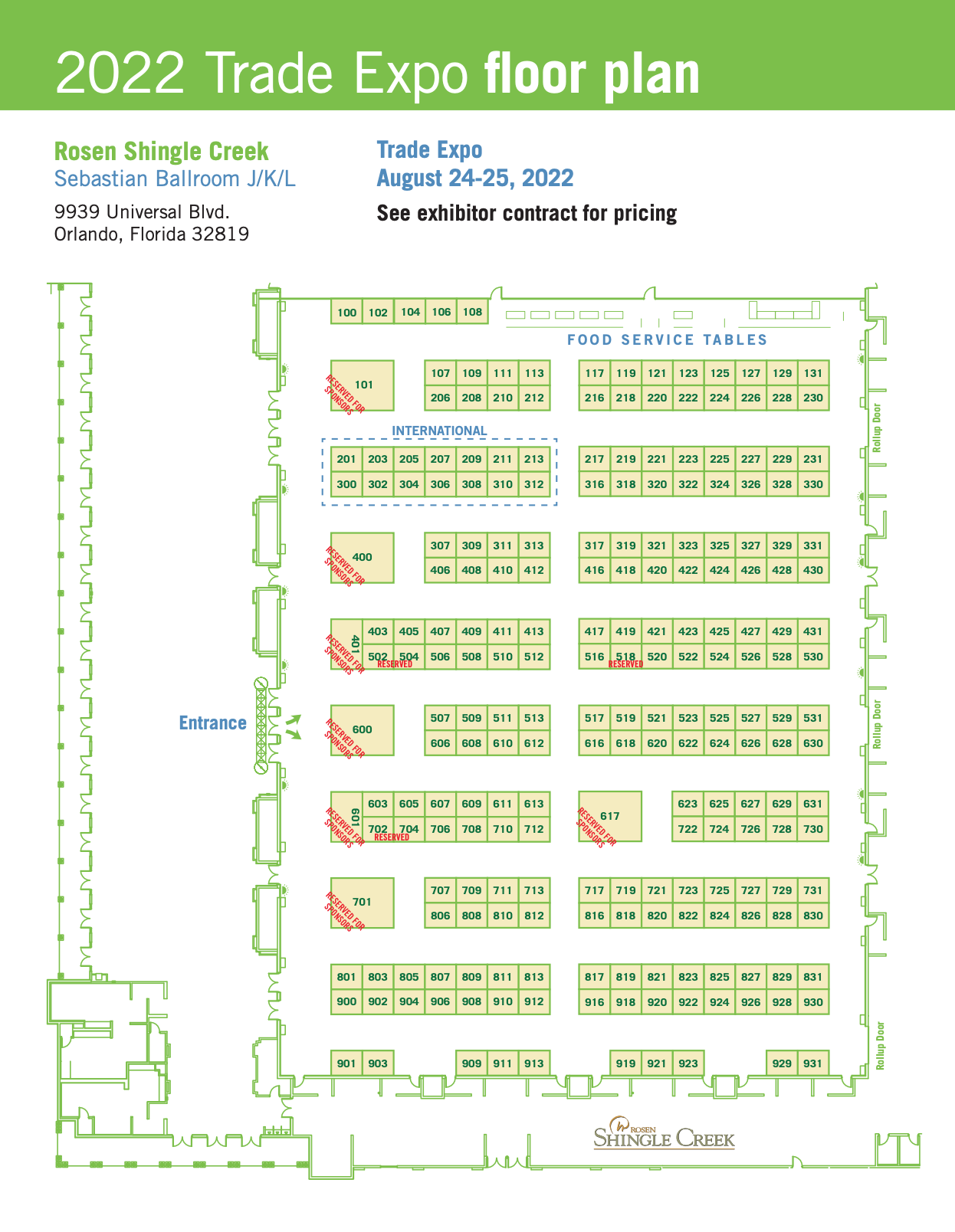 | | | | |
| --- | --- | --- | --- |
| 106 | 701 | | |
| 108 | 726 | | |
| 119 | 727 | | |
| 123 | 728 | | |
| 125 | 729 | | |
| 127 | 730 | | |
| 129 | 731 | | |
| 131 | 801 | | |
| 205 | 816 | | |
| 220 | 818 | | |
| 222 | 819 | | |
| 223 | 820 | | |
| 224 | 821 | | |
| 225 | 822 | | |
| 226 | 823 | | |
| 227 | 824 | | |
| 228 | 825 | | |
| 229 | 826 | | |
| 230 | 827 | | |
| 231 | 828 | | |
| 307 | 829 | | |
| 309 | 830 | | |
| 320 | 831 | | |
| 322 | 900 | | |
| 323 | 902 | | |
| 324 | 904 | | |
| 325 | 906 | | |
| 326 | 908 | | |
| 327 | 909 | | |
| 328 | 910 | | |
| 329 | 911 | | |
| 330 | 912 | | |
| 331 | 913 | | |
| 426 | 918 | | |
| 429 | 919 | | |
| 431 | 920 | | |
| 502 | 921 | | |
| 504 | 922 | | |
| 509 | 923 | | |
| 518 | 924 | | |
| 528 | 926 | | |
| 529 | 928 | | |
| 530 | 929 | | |
| 531 | 930 | | |
| 617 | 931 | | |
| 626 | | | |
| 627 | | | |