Press Release

Florida Realtors Honors 2020 Award Winners
Eric Sain, 2019 president, is 2020 Realtor of the Year – all award winners were honored in a recognition video shared yesterday to kick off the Virtual Convention.
ORLANDO, Fla. – Aug. 25, 2020 – Florida Realtors® recognized Eric Sain, 2019 Florida Realtors president, as its 2020 Realtor of the Year. All of this year's award winners were celebrated in a special recognition video released Monday to kick off the state association's first Virtual Convention, Aug. 24-27, 2020.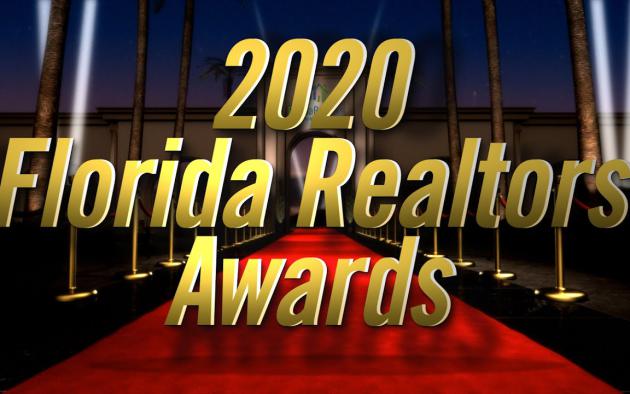 Watch as we unveil the 2020 Florida Realtors annual award winners — this year's best in the Florida real estate business, from your member organization, Florida Realtors.
"This is such an honor to be recognized for doing something that I love to do with a group of people I admire," said Eric Sain, as he thanked Florida Realtors for the honor in the awards video. "Many great minds have collaborated to build this solid institution that we call Florida Realtors, and I respect the actions that have made us stronger. It has truly been a privilege representing you. Thank you for giving your time and talents, expressing your ideas, exploring your interests and bringing real opportunities to Florida Realtor Nation.
"I think last year helped prepare us for exactly where we are at this moment in time," Sain continued. "Don't forget what we learned and keep the morale up. Let's continue to pick leaders of leaders, while we remember where we've been, stay true to where we are, and steadfast in striving for higher standards for our future. Always remember that you have the power to continue to reshape our industry. Thank you again for this Realtor of the Year award. You have made my decade."
Florida Realtors has presented Realtor of the Year and Associate Realtor of the Year awards for more than 65 years. Winners are honored as the greatest individual lifetime contributors to their local Realtor board, community, state association and the National Association of Realtors (NAR).
During his career of more than 20 years, Sain has passionately worked to enhance the Realtor brand, advance the industry and make a positive impact on his profession. He is a member of the Broward, Palm Beaches and St. Lucie Realtors, formerly known as Greater Fort Lauderdale Realtors.
A leader in regional, state and national real estate organizations, Sain served his local association on countless committees and as president in 2008. He has been recognized by his association with numerous awards, including the Rising Star Award in 2000, three Presidential Awards (2008, 2010 and 2011), and as Realtor of the Year in 2010.
At the state level, Sain has served on a total of 54 committees, Presidential Advisory Groups and subcommittees for Florida Realtors, ranging from chairing Public Policy to Finance. In 2010, he was honored as Florida Realtors Associate Realtor of the Year. He has also served in every officer position, from District 11 vice president to Florida Realtors president in 2019. During his year as president, Sain advanced Florida Realtors connections in global real estate with the largest trade mission in the state association's history: over 400 Realtor members traveled collectively to Dubai in September 2019.
Another monumental achievement for Florida Realtors' record books: At the August 2019 convention, Sain's leadership team was able to get 314 members of Florida Realtors to join together to form the shape of a key, representing that Realtors are the key to help people unlock the power of homeownership. That feat earned the Guinness Book of World RECORDS title for "Largest Human Image of a Key."
On the national level, Sain currently is the chair of the National Association of Realtors (NAR) Commitment to Excellence (C2EX) Committee, an online self-assessment resource to help Realtors increase their professionalism. He's played an integral role in the program since its inception, collaborating on the design, content and nationwide launch in late 2018. Under his guidance, NAR's C2EX program has reached more than 54,000 participants, with more than 9,000 Realtors earning the program endorsement upon completion – and the program continues to grow.
A strong supporter of Realtor advocacy and public policy efforts, Sain is a Golden R President's Circle investor in RPAC (Realtors Political Action Committee) and was inducted into the RPAC Hall of Fame in 2014. In total, he has served NAR in more than 50 leadership and committee positions.
He also finds time to give back to his community. Sain volunteers for a variety of causes and community efforts, including serving on the West Palm Beach Affordable Housing Committee and the West Palm Beach Water Advisory Board. He is a passionate supporter of Habitat for Humanity Florida and the American Heart Association.
Associate Realtor of the Year
Florida Realtors honored Michael "Mike" Artelli of the Space Coast Association of Realtors as Associate Realtor of the Year.
"Wow! I'm honored and humbled," Artelli said in the award winners video, as he thanked Florida Realtors President Barry Grooms and the 2020 leadership team "for seeing a leader in me and trusting me to be a part of shaping the future of Florida Realtors. … I look forward to serving every Florida Realtors member into the future, and I truly, truly am appreciative of this award. Thank you."
A leader with his local board, Artelli has served on many different committees, starting in 2010 with a task force appointment to help develop a new, better website for the association; and in the following year, on the RPAC and Social Events Committee. He is a strong supporter and investor in the Realtors Political Action Committee (RPAC) and has been a member of almost every local committee.
Artelli served as the 2014 co-chair of his local association's Brevard County Children in Need Committee, which provides supplies and other necessities for homeless children in the local school system. He is the treasurer of the association's charitable foundation, founded in 2016, and has been since its inception. With his help, the foundation has raised a total of $765,500. Artelli has served as treasurer, president-elect and as the 2018 president for the Space Coast association.
On the state level, he has served Florida Realtors on many committees, including as a current member of the Executive and vice chair of the Public Policy committees; he will chair the Public Policy Committee in 2021. A graduate of the state association's Leadership Academy, he also served as Florida Realtors District 2 vice president in 2019.
Artelli was elected by the state association to serve as a director for the National Association of Realtors (NAR). He has served on NAR's Leading Edge Advisory Board, Public Policy Coordinating Committee and graduated from its Leadership Academy. He is NAR's current federal political coordinator with U.S. Congressman Bill Posey.
In his community, Artelli was honored as a nominee for Brevard County's "4 Under 40 Award," recognizing young leaders who are making a difference in the county. He has served on the Space Coast Economic Development Board and is a current member of the Board of Directors for Family Promise of Brevard, a nonprofit dedicated to helping families in need with housing and life skills. He is a graduate of the Lead Brevard program, founded to increase participation of community leaders in Brevard County and the Space Coast area.
Realtor Achievement Award
Anand Patel, a member of Greater Tampa Realtors, was named the winner of Florida Realtors 2020 Realtor Achievement Award, which recognizes a Realtor who serves as manager, broker of record or officer in his or her company. The award acknowledges the winner's previous three years' contributions to the community, local, state and national Realtor associations.
Patel has served on numerous committees at his local association, including as chair of the Realtor Attorney Committee and the Young Professionals Network, of which he was also a founding member. He currently is vice chair of his local Global Committee. A major investor in RPAC, Patel believes in the need to protect private property rights and ensuring the Realtor voice is heard at the local, state and national levels.
He has also been active in Florida Realtors, serving on many committees for the state association, including as the 2018 chairman of the Strategic Thinking Committee; he has chaired the Business Trends and Technology Forum, as well as been a member of Florida Realtors Young Professionals Network and helped to launch the state association's first YPN Summit. An alumni of Florida Realtors Leadership Academy, he also was a member of the Board of Directors for many years.
On the national level, Patel has spoken about technology related topics at various real estate industry events, including the National Association of Realtors' (NAR) Tech Edge and CRS (Certified Residential Specialist) Sell-a-bration Convention. For NAR, he has been a member of its Data Strategies Committee and the Federal Technology Policy Advisory Board. He serves as a mentor for technology companies in NAR's accelerator program, called Reach. And, Patel also was a blogger for NAR's YPN Lounge website and a guest editor for Realtor magazine.
He has long supported the Tampa Bay community, serving on the board of the local YMCA for many years and most recently on the board of TiE Tampa, an organization that fosters entrepreneurship by mentoring and funding startups. A past president of his local Toastmasters Club and alumni of Leadership Tampa Bay, Patel and his family organize an annual event at a local elementary school for migrant families, providing Thanksgiving meal vouchers, blankets and other supplies. In 2017, he was honored with the prestigious Indo-U.S. Chamber of Commerce Young Entrepreneur of the Year award.
Commercial Realtor Achievement Award
The Commercial Realtor Achievement Award honors a Realtor's lifetime of contributions to commercial activities at the local, state, national and community levels. Chere Roane, a member of the Orlando Regional Realtor Association (ORRA) and the Central Florida Commercial Association, received the 2020 Commercial Realtor Achievement Award.
Honored by ORRA as its 2017 Realtor of the Year and as its 2018 Presidential Award recipient, Roane has worked tirelessly with the ORRA Realtors Commercial Council from its beginning to its current member base of more than 400 Realtors. She is a mentor to many members, encouraging those interested to earn their CCIM (Certified Commercial Investment Member) designation. Roan helped the transition team that made the Central Florida Commercial Association of Realtors a reality, serving first as a member of the Board of Directors, then as president in 2011.
At the state level, she has served on numerous Florida Realtors committees, including Commercial Alliance, Legislative Task Force, RPAC and the Building Fund, to name a few over the years. Roane is a 2010 graduate of Florida Realtors Leadership Academy and a 15-year member of its Honor Society. She also has served the National Association of Realtors (NAR) on many committees, including Consumer Communications, Governmental Affairs, and Leading Edge Advisory Board. Currently, she is a member of NAR's Commercial and Commercial Legislative committees. Roane also is a graduate of its JW Levin Leadership Academy.
In the community, she is a past president of the Orlando Evening Rotary Club; is part of the Golden Eagle Boy Scouts event that works closely with Boy Scout Troup 24 (her grandson is now an Eagle Scout); a member of the American Legion Post 19; and an auxiliary member with the Veterans of Foreign Wars (VFW) post 2093. Roane works closely with veterans' groups and is a strong advocate for organizations that assist the elderly in the Orlando area.
Humanitarian of the Year
Proving that Realtors make a difference, Jennifer Bowman, a member of the Central Panhandle Association, was named the 2020 Humanitarian of the Year by Florida Realtors. In December of this year, she saw a Facebook post and made a life-changing decision to help someone in great need.
Bowman only knew Melanie Taylor through social media. However, when she read about Melanie's struggle with dialysis, the risk to her life and the need for a donor, Bowman was ready to help. She signed up for the Mayo Clinic Living Donor transplant program and began the testing process. This was before the coronavirus pandemic, but Bowman continued even when COVID-19 made the process much more complicated and riskier.
At the beginning of April, Bowman was able to give Melanie the life-changing news that her kidney was a perfect match. Despite the pandemic, the surgery took place on May 1. Melanie was released from the hospital in early June and is making a healthy recovery. And, through Bowman's efforts along with others in the community, a Go Fund Me campaign for Melanie was able to raise all the money needed to completely pay for the kidney transplant surgery.
She gives back to her community in many other ways, including serving as this year's chair for the Central Panhandle Association of Realtors' Benevolence Committee, leading the committee to raise funds and provide assistance to Realtors hurt by the recent wildfires in Santa Rosa County and the tornadoes in Nashville, Tenn. She also volunteers and organizes events to benefit Food 4 Kidz, a nonprofit group that provides groceries and supplies, free of charge, to struggling families with children.
In honor of the 2020 Humanitarian of the Year, Florida Realtors will send a check for $5,000 to the charity of Bowman's choice: the Mayo Clinic Living Donor Program.
Spirit of Advocacy Award
Chuck Bonfiglio Jr., a member of Broward, Palm Beaches and St. Lucie Realtors, is the 2020 winner of the Spirit of Advocacy Award.
This award honors a member of Florida Realtors who has demonstrated excellence in advocacy at the local board, state association, national association and community within the governmental or political arena over their lifetime. Monetary donations are not a consideration for the award.
During his 20-year real estate career, Bonfiglio has served on dozens of committees at the local, state and national Realtor association levels with a highly-developed passion and commitment for advocacy.
Born and raised in a Realtor family (his late father, Chuck Bonfiglio Sr., was the 2008 president of Florida Realtors), he learned the importance of advocacy and engagement in public policy issues early on. He was the 2013 president of his local association, then the Realtors Association of Greater Fort Lauderdale, and is a 2011 graduate of Florida Realtors Leadership Academy.
A long-time supporter of the Realtors Political Action Committee (RPAC), Bonfiglio is a sustaining Golden R Presidents Circle member and made the RPAC Hall of Fame in 2019. He is a member of NAR's Board of Directors, serves on its Federal Taxation Committee and is the current federal political coordinator for U.S. Congresswoman Debbie Wasserman-Schultz.
An active member of his community, Bonfiglio has worked closely with Easter Seals, the Greater Fort Lauderdale Charitable Foundation, and the Boys and Girls Club since 2007. For the last 15 years, he has volunteered and supported Habitat for Humanity and the Broward Partnership for the Homeless, as well as the Education Foundation in Broward County.
Bonfiglio is a passionate advocate for private property rights, a strong voice for Realtor engagement and investment, and boldly represents the real estate profession.
Education Volunteer of the Year
The Education Volunteer of the Year Award recognizes members who volunteered their time and energy to advance professional development for Realtors. This year's Education Volunteer of the Year winner is Neal Oates Jr. from the Miami Association of Realtors.
Recognizing the impact that training and expert guidance has played in his career, which began in 2007, Oates strongly believes in professional development as a force to help new and experienced real estate professionals thrive in today's industry.
Oates frequently writes on-target articles, delivers engaging presentations, participates in homebuyer workshops and promotes education classes. He is also an active participant in new member orientation for Miami Realtors, working to help strengthen the future of his association.
Educator of the Year
This year's winner of Florida Realtors Educator of the Year is Joanne Chando, a member of the Naples Area Board of Realtors; she is a two-time winner of this award, which she also received in 2015.
With a real estate career spanning 35 years, Chando teaches a dozen CE Express courses and more than a dozen GRI courses for Florida Realtors. She also writes and develops courses for the state association, and has been a featured speaker at the National Association of Realtors (NAR) AE Institute, NAR's annual conference, North Carolina Vision Quest, Triple Play and many other events. She has served on the Professional Development committees for both Florida Realtors and NAR, as well as many other committees.
A graduate of Florida Realtors Leadership Academy, Chando holds 14 real estate designations and certifications. She advocates for the power of professional development to help members improve their skills, enhance their value to clients and boost their business.
Florida Realtor magazine awards
Florida Realtor Magazine Best Article: Matt Owen, Broward, Palm Beaches and St. Lucie Realtors, for the article, "LOLO = Happy Customers," November/December 2019, Florida Realtor magazine
Florida Realtor Magazine Editorial Excellence: Janet Paula, Greater Tampa Realtors, for the article, "Managing Daily Tasks, To-Do Lists and Appointments," March 2020, Florida Realtor magazine
© 2020 Florida Realtors