Florida Realtors Convention: The Premier Event for Serious Realtors
Every August, network with top producers to close more deals, master skills that lead to more listings, and learn about trends that will change how you do business.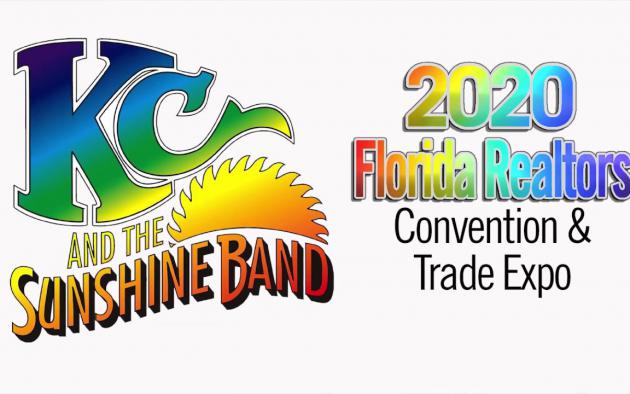 15 "Hot 100" records. 11 top 10 hits. 5 number one hits. Come "shake, shake, shake your booty" to the one and only KC & The Sunshine Band at the 2020 Florida Realtors Convention & Trade Expo.
Success strategies from top industry leaders, the latest in high-tech devices and a chance to network with other real estate professionals: That's what the Florida Realtors® 2020 Convention & Trade Expo offers – opportunities to boost business and the bottom line.
The 2020 Convention & Trade Expo will take place Aug. 26-27 at the Rosen Shingle Creek resort in Orlando, with the popular REBarCamp slated to kick off the event on Aug. 25.
Then Realtor members will get down to the business of the state association and wrap up the week with governance meetings, Aug. 28-30.
* Due to the challenges and obstacles created by the Coronavirus and all the adjustments you're currently making, we do not want members committing funds for Convention registration. We are also updating our technical systems to ensure a seamless and easy registration process. Therefore, convention registration will take place in the near future. 
There's something for everyone at a real estate industry event of this size, where more than 3,000 serious business professionals converge to learn and earn more. Sure, many of the attendees are Realtors and brokers. In the mix, you'll also find:
Property managers
Commercial and residential investors
Auction specialists
Banking executives
Mortgage lenders
Property appraisers
Rental and relocation experts
International liaisons who work with global customers daily
Anyone who's connected to the business of real estate has something to gain and learn by attending this event. Real estate isn't just about selling properties; it's about connecting so that business is better for all.
Inspiring keynotes
Allison Massari's personal story of hope, resilience, perseverance — and, above all, kindness — will touch your heart, lift you up and inspire you to live every day with gratitude and passion. 
After nearly dying trapped in a burning car, Massari tells her story of triumph and shares the strategies she has used to overcome adversity, master change and advance professional achievements.
Don't miss her presentation, "The Fire Within: The Art of Exceptional Self-Leadership," as our general session keynote
speaker. 
VIDEO: Allison Massari's story
Plus, you'll hear from New York Times best-selling author Weldon Long, who went from a ninth-grade dropout and three-time convicted felon to the owner of a company that in 2009 was selected by Inc. magazine as one of the nation's fastest-growing privately held companies. 
Don't miss your opportunity to connect with thousands of Florida's most active and engaged members when they're primed to do business.
He'll share proven strategies that'll help you and your team form healthy habits for success. You'll leave with new tools for staying focused on your goals and overcoming obstacles.
Endorsed by sales training superstar Tom Hopkins and the legendary Dr. Stephen Covey, Weldon, author of The Power of Consistency — Prosperity Mindset Training for Sales and Business Professionals, will keynote our closing session.
Legendary entertainment
Florida Realtors proudly presents the one and only — K.C. and the Sunshine Band! Come out for our Wednesday Night Dance Party for the fun, the memories and the dance tunes that'll keep you movin'. 
What's in it for me?
Take a look at what's happening this year in Orlando. Where else can you get this much bang for your bucks?
40+ education sessions, featuring nationally recognized speakers, trainers and Florida's industry experts.
6 learning tracks – Broker. Continuing Education. Global. Productivity/Profitability. Professional Growth. Technology.
Peer-to-peer training sessions focusing on today's challenges and opportunities.
FREE CE credit courses
FREE Two-day Trade Expo – Aug. 26-27 – with exhibitors whose job is to work wonders in your business.
REBarCamp Orlando – Tuesday, Aug. 25, with the usual and unusual before-and-after parties, Meet Ups and Tweet Ups.
Special and ticketed events during the day and late into the night that celebrate our industry.
Awards Luncheon – Who will be Realtor of the Year? Come celebrate the best in the business at this must-attend event.
Legislative and Political Forum – Find out what's happening in Tallahassee and beyond.
For more information about the Florida Realtors Convention & Trade Show, call 1-800-669-4327.