Priority: Water Quality & Environment

Dan Reynolds Photography / Getty Images
Florida Realtors Works to Balance Property Rights and the Environment
Florida Realtors is dedicated to environmentally sound development and the preservation of the state's natural resources.
In order to grow, Florida must continue to develop its communities and the industries that support them. But it cannot do so in a way that damages these precious resources and puts the state at risk.
It is a fine balance to maintain and Florida Realtors is often the leading voice in the efforts to ensure Florida's environment remains protected. 
In its more than 100-year history, Florida Realtors has passed numerous member-driven motions pertaining to the environment and the preservation of Florida's natural resources.
For example, Florida Realtors has adopted policy positions that promote finding solutions to address excessive pollution and degradation of the state's waterways. We also continue to support efforts to create a statewide beach re-nourishment and maintenance program and to demonstrate the importance of beach re-nourishment to the economic vitality of Florida. 
These are the types of strategic initiatives that help guide our public policy efforts each and every year.
Florida Realtors will continue to advocate for sensible legislation that balances the rights of property owners with the need to protect and preserve our environment.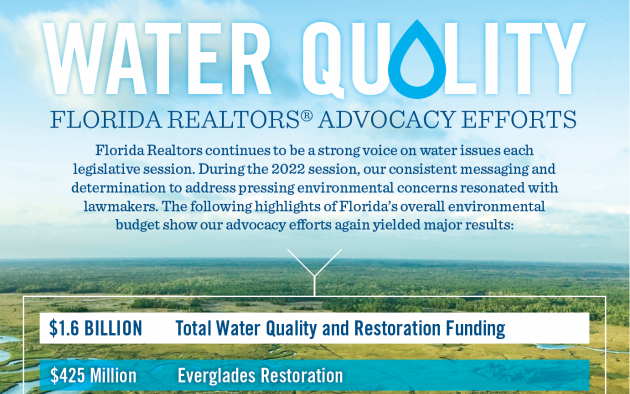 Florida Realtors continue to be a strong voice on water issues each legislative session. Our advocacy efforts have helped produce historic funding levels for critical environmental projects and initiatives. 
Environmental funding

 
Florida relies on tourism to help power our large and robust economy. Whether it's the white sandy beaches, the emerald coastline, or crystal-clear freshwater springs — a healthy environment is key to our overall economy.
In 2015, the Florida Legislature passed a landmark piece of environmental legislation aimed at cleaning up our waterways. While this bill was aimed at the Everglades, Florida Bay, and the two estuaries on the east and west coasts of south Florida, Senate Bill 10 also had statewide impacts. 
In 2016, the Legislature also passed an important piece of legislation. House Bill 989 was the implementation of the Land Acquisition Trust Fund, an amendment to the Florida Constitution that was passed in 2014. This amendment created a dedicated funding source for upcoming environmental restoration projects. HB 989 created percentages for how much money must be allocated for specific environmental projects statewide.
During the 2022 legislative session, lawmakers appropriated nearly $1.6 billion dollars to help combat many of Florida's critical water quality needs.
Below are the major highlights from the 2022 environmental budget:
Everglades Restoration

 — $425 Million

Beach Projects

— $50 Million

Springs Protection

— $75 Million

Wastewater Grant Program

— $125 Million

Resilient Florida Grant Program

— $470 Million