Homeownership License Plate

undrey / Getty Images
'Homeownership for All' License Plates — Funding Affordable Housing
This specialty tag has helped raised more than $1 million toward making the dream of owning a home come true for Floridians.
Let everyone know you support homeownership!
Since 2006, more than $1.6 million has been raised through the sale of Florida Realtors® "Support Homeownership for All" specialty license plates, which help fund affordable housing programs across Florida. The goal is to provide housing assistance to teachers, nurses and others unable to afford a home.
Ninety percent of the proceeds from the sale of the "Support Homeownership for All" license plate goes to support affordable housing programs. Just 10 percent of the funds go toward marketing the plate.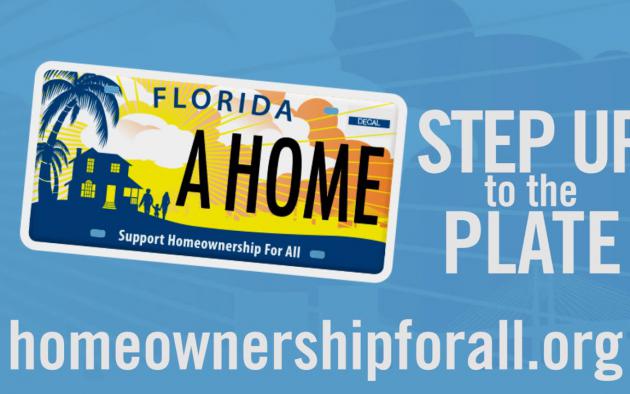 What if you could help fellow Floridians make their homeownership dreams a reality? Good news! You can with the Support Homeownership For All specialty license plate. It only takes $25 to make a difference. Step up to the
Click here to learn more or donate.
Realtors from coast to coast say the license plate draws attention to their goal of helping others share in the American dream of homeownership. It's a great marketing tool and a great cause.  
How to buy the license plate
The Florida Realtors specialty license plate is available online, by mail or at your county tax collector's office.
The license plate costs an additional $25 (beyond the state's fees for a tag). If you purchase the tag online, you'll pay a convenience fee, which amounts to either $2 or 2.95% of the total cost of the tag.
Donate to the cause
We are now accepting donations to the Homeownership for All license plate fund. To make a tax-deductible contribution, mail a check to:
Homeownership For All
P.O. Box 725025
Orlando, FL 32872-5025