Forewarn: New Member Benefit Offers Instant Background Checks
Use Forewarn on your phone or desktop to learn the background of the person calling you — and ensure your safety.
Coming Soon!
Forewarn®, a service that lets you determine if a prospective customer poses a safety risk WITHIN SECONDS, will be available soon FREE to all 238,000 Florida Realtors® members.
Available both online and through a mobile application, Forewarn analyzes billions of data points and provides users with the ability to mitigate risks by verifying identities and validating information provided by potential clients – using just a phone number. Its services enable real estate agents to plan for showings with a higher level of confidence.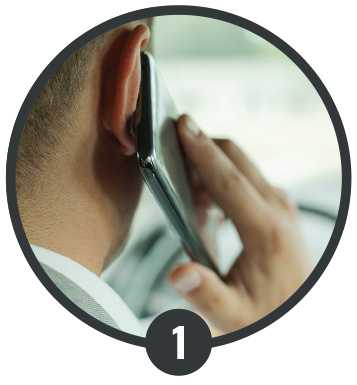 IDENTITY VERIFICATION
Verify the identity of anyone who is part of the real estate transaction and address potential risks.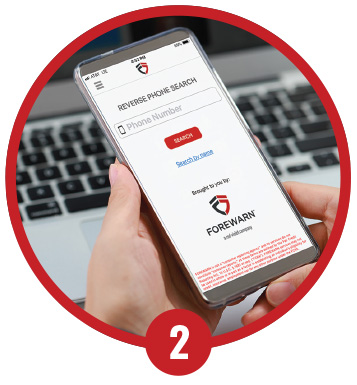 KNOW YOUR CUSTOMER
Instant knowledge allows you to better understand your customers and serve them more effectively.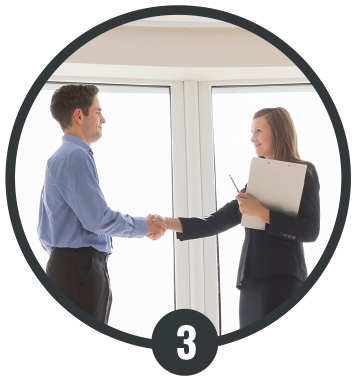 GAIN CLIENT CONFIDENCE
By working to prevent fraud, mitigate risk, and promote safety, you help protect not only yourself but your buyers and sellers as well.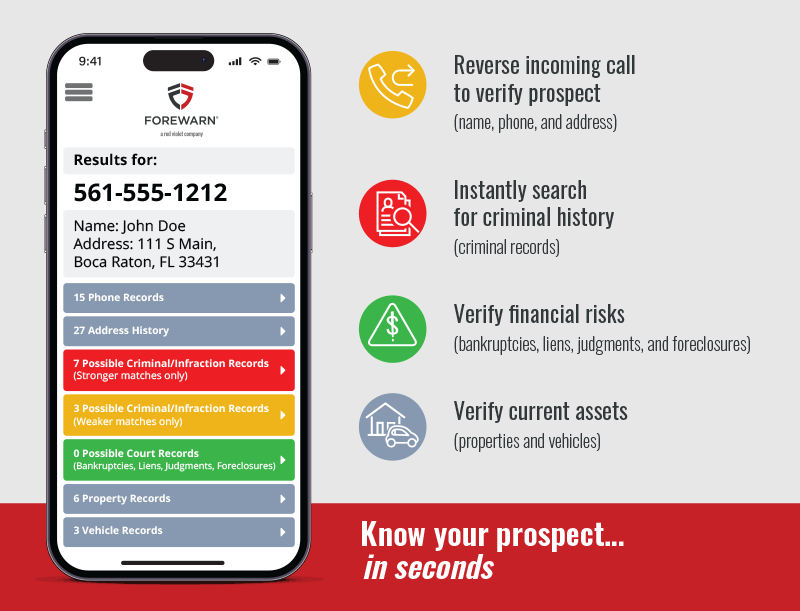 With Forewarn, instantly verify your prospect
With an intuitive interface, Forewarn puts real-time key information in the palm of your hand.
 

Identityfirst name, last name, alias, and age

 

Phone numbersresidential and mobile history

 

Address history rental, ownership, and associated addresses

 

Financial indicators (bankruptcy, lien, judgment, and foreclosure history

 

Property records nationwide property ownership history

 

Criminal records nationwide criminal history search
Frequently Asked Questions
Find out more about this stand-out Florida Realtors benefit
When can I sign up with Forewarn?

Soon!

How do I sign up with Forewarn?  

Members will receive a welcome email with activation instructions. 

I already receive Forewarn through my association or MLS, what do I do?

You won't need to do anything. All current users in Florida will be moved over to the Florida Realtors Forewarn account — including Brokers and Individuals who pay for it on their own. 

I already pay for an individual account, what do I do?

You won't need to do anything unless you are using a different email address than the one you use with Florida Realtors. If that is the case, contact Forewarn at support@forewarn.com or call 561-757-4551, and let them know you need to cancel your individual account.
Who do I contact if I need assistance with my account?

Call Forewarn at 561-757-4551 or email support@forewarn.com (Monday through Friday, 9 a.m. to 5 p.m. ET). 

How can I learn more about Forewarn?

Forewarn offers open training webinars for anyone. Click here to register for a free training webinar.

How do I use Forewarn?

The Forewarn application gives an agent the ability to gain instant insight on a prospective client (within seconds, without exposing any protected class information) using only a phone number! Don't have a phone number… you can also search by name.
Advisory
Important information to ensure this benefit is not abused
Please note that you must limit your FOREWARN searches to professional use only. FOREWARN is only to be used for verifying inbound prospects that have initiated the interaction, such as when a potential buyer or seller has contacted you or initiated a request for information. The FOREWARN service is not to be used for marketing (e.g. prospecting for potential leads/clients) or to determine anyone's eligibility for credit, insurance or employment, or for any other purpose regulated by the Fair Credit Reporting Act. Search activity is actively monitored (search terms and volume) to ensure proper use by our Subscribers as outlined in the Subscriber Agreement and the FOREWARN Terms and Conditions. Any use that is outside of the outlined proper usage that you agree to upon activating your account is prohibited and can result in your service being terminated. The specific compliance and use terms can be viewed by clicking here.