News & Media

Martin Barraud/Gettyimages.com
Realtors Share Their Secrets to Successful Team Branding
How to find the perfect mix of creativity, authenticity, and value to build an identity that catches engages real estate customers. 
More than a color scheme, fancy logo or memorable tagline, your brand should reflect your team's core values and the unique perspective and experience your team delivers.
Successful team brands mix authenticity with value, targeted messaging and creative elements to shape a consistent identity. Plus, teams must deliver valuable content, maintain a strong online presence and engage with their key audiences.
Florida Realtor magazine interviewed three real estate professionals who built successful team brands. They share their best tips for carving out your team's unique identity.
Team #1: The Platinum MVP Team at Keller Williams Realty, Tampa   
How they developed the brand:
Former University of South Florida (USF) football player Brandon Rimes tapped into his sports background to carve out a unique brand for his 12-person team.
Launched in January 2019 after his firm's merger with Keller Williams, the team identity grew out of Rimes' love of football. From his days playing Pop Warner football through his time on the field in college, Rimes says, "We were always the underdog, from a small town."
In the state championship game during his senior year, Rimes played quarterback. Later, he went on to play on the inaugural USF Bulls team in 1996–97.
"I was always the MVP on the football team, so I made my real estate team The MVP Platinum Team. I look at real estate the same way I ran my [sports] teams," Rimes recalls. "As the quarterback, I was the team leader. Now, our wins focus on helping sellers negotiate the best deals."
Creative ways they promote the brand:
The Platinum MVP Team carries their football branding into everything they do, including their "Consumer Quarterback" radio and TV shows. Not only do they provide expert advice and feature big-name guest speakers, they pitch their listings live on air daily. "The show gives us so many different ways to repurpose our content on Facebook, Instagram and [via] podcasts," notes Rimes. "It also opens up speaking engagements, such as at Florida Podcasters Association, where it boosts our visibility and helps with recruiting."
Their best team branding tips:
Hold a brainstorming session. Figure out what from your past could help you and how you could tie it into your experience and background. "Think outside the box," advises Rimes. "What will be memorable? Go beyond the obvious—think a layer deeper."
Target a niche. Do you want to be the new-home specialist? Do you want to focus on a specific geographic area? Do you want to be the Condo Queen? Figure out your niche.
Align with your values. The MVP Platinum Team loves giving back to the community. They sponsor quarterly events (on hold right now), with proceeds going to nonprofits such as Warrick Dunn Charities, headed by the former NFL running back who played for the Tampa Bay Buccaneers and the Atlanta Falcons. Among other programs, the charity helps single-parent families achieve homeownership.
Team #2: The Kim Tillett Team at Coldwell Banker, Paradise, Satellite Beach
How they developed the brand: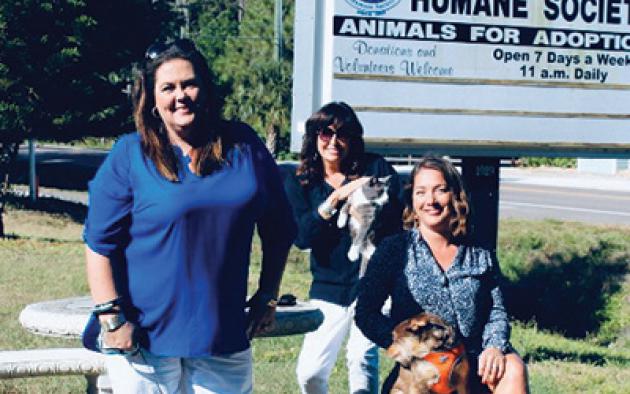 Starting in real estate in 2011, Kim Tillett found her business growing quickly. With encouragement from her broker, she did a soft team launch in 2019 and is ramping up this year.
"The people I work with are what sets our team apart," explains Tillett. "Our No. 1 focus is customer service, fueled by our personalities, kindness and work ethic. We take care of everybody."
Tillett ensured her team logo and branding matched her brokerage messaging and that her values fell in line with Sorensen's approach: family-owned with a corporate feel.
Creative ways they promote the brand:
Besides posting videos about open houses and testimonials, the team of five shines the spotlight on giving back to their community—especially animal-focused charities.
"We're very involved in our local Humane Society, such as sponsoring all adoption fees—not just for our [customers], but for everyone who adopts a pet through this nonprofit," says Tillett. They've even adopted pets from customers who couldn't take them along when moving.
Their best team branding tips:
Choose team players wisely. It comes down to the people. "We just click," says Tillett, advising that you should surround yourself with like-minded people who share the same work ethic and philosophy.
Keep in line with your brokerage. When she came from New York, she quickly noted that Florida was much more laid-back. "I wanted to still promote us as ethical professionals, so you get the same service whether you're buying a condo or $1 million home."
Keep the personal touch. Tillett recalls earlier in her career when she'd spend the day with clients getting to know them. Now, much of the process is done online. She still likes to get together in person and meet for coffee, although that option isn't available now due to the coronavirus restrictions. "It's my favorite thing to do," she says. "When you hire the team, you hire us."
Team #3: The Andrey Bustamante Team at Bustamante Real Estate, Orlando
How they developed the brand: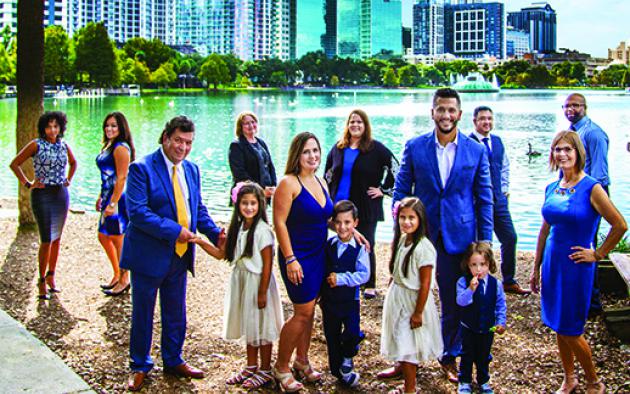 Launched in 2005, the 10-person Andrey Bustamante Team goes back to their family-focused roots for branding.
"When we first started, we were known as the Bustamante Brothers Team," explains Bustamante. "A year later, we brought my father on and started calling ourselves Team Bustamante."
Although they started with RE/MAX, they launched their own company and kept the branding.
Creative ways they promote the brand:
In such a competitive marketplace, Bustamante says his team knew they'd need "a big microphone" to talk to people and offer their services.
In 2009, they started advertising on mass media, including talk radio, TV and billboards, which they still do.
"We've done it on a big scale to differentiate us from others, including having Barbara Corcoran (of ABC's Shark Tank fame) and other celebrities endorse us and introduce us to our audience," notes Bustamante.
Their best team branding tips:
Humanize your brand. With so much competition, you must stand out. Let people know what you're about. "If you look online, you'll see lots of pictures of me with my team and my family," says Bustamante. "Give people an opportunity to see what doing business is like with you."
Incorporate video. Whether you're doing drone footage of properties or offering home buying and selling tips, provide value through video. You can keep it basic, yet professional, by shooting from your smartphone. Video adds another dimension beyond static photos. "Show your personality," notes Bustamante. "I just talk from the heart. Don't worry about being perfect on video. People want to see the real you."
Stick with it. Figure out what you're going to do—events, videos, podcasting—and stick with it. "With radio—it's working good for me now," explains Bustamante, "but I've done it for 10 years. Whether you do direct mail or cold call expired listings, it's a long-term effort." Bustamante likens marketing and branding to fishing. You might have zero luck the first few times, but just leave the line in the water and eventually, you'll get a bite.
Great branding begins with the message you want to send out to the world and continues with authentic marketing that gets to the heart of that message in a real and personal way. After all, real estate is all about relationships. Show people who you and who your team members are from a personal perspective. #
Lisa Beach is an Orlando-based freelance writer.