News & Media

Thomas Barwick/Gettyimages.com
How to Build a Top-Performing Real Estate Team
Starting a team? No one offers better advice than top-producing team leaders who have successfully done it!
"We're relying on technology more than ever," says Debbie De Grote, co-founder and CEO of Forward Coaching in Costa Mesa, Calif. "[Agents have] learned to embrace virtual platforms. When things return to whatever the new normal is, the virtual stage is going to be powerful. We are encouraging our coaching clients to create virtual networking groups and educational events. All of the tools they're using make so much sense as teams move forward."
Teams are a dominant force in the industry. In fact, it's estimated that there are more than 50,000 real estate teams in the United States.
Las Vegas-based business coach Jan O'Brien of WBNL Coaching believes that building a successful and profitable team is an art as well as a science.
"The initial priority considerations are hiring talented individuals for your key staff positions and implementing effective business and real estate systems," she says. "Remember that your role in the team is to function as the CEO. You must think of and run your business as a true business."
Each of the following high-performing leaders followed their own blueprint for building a team, but they all understand the value of hiring the right mix of people, rewarding hard work and sharing in each other's victories. They've also embraced the power of doing business virtually.
Here's how they do it.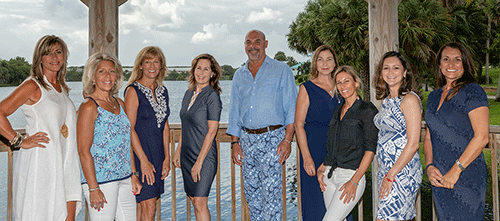 Spina Group
When Kevin Spina started building a real estate team, he drew on his 25 years of experience as a restaurateur.
Using a structure similar to Nature's Way Café, a single-entity lunch concept that he grew to 14 locations in Florida, Colorado, Maine and Tennessee, he created a manual outlining his team's basic operation, core values and mission.
He currently has two full-time administrators and six other team members who are all licensed agents. "We consist of eight women and myself, and I'm also a sales associate," says the leader of Spina Group, which operates within The Keyes Company in Palm Beach Gardens.
1. Invest in People.
Spina's hiring strategy centers around investing in people. He leads with a boots-on-the-ground, learn-by-doing philosophy, and, until the COVID-19 pandemic, he hadn't sought the advice of a coach. As he explains, "If you can create business for the team and show them value, they'll want to be on your team."
The pandemic gave him an opportunity to reexamine his operations. So, he hired a coach. "It was an eye opener," he says. "My question was how do you grow your business and slowly exit or go to a part-time retirement while keeping the production level up? My coach gave me [insight] about how to analyze the productivity of my time and the team's time and what I should be overseeing and micromanaging."
2. Encourage Collaboration.
It takes the support of the entire team to achieve such high volume, Spina says. "Everybody works together. Over the last six years we have closed $1.5 million per week, with team volume at just under $80 million per year."
3. Have a Plan for Leads and Splits.
Each week, two team members get the leads—the listings and the buyers—and any resulting business falls back to the team member who started with the client. When Spina lists properties, prospective buyers are assigned to whoever is slated to receive them that week. One time, a man riding a bicycle showed interest in one of his listings. His team members followed up. A week later, the man was under contract on a $550,000 property and those agents got 75% of the commission. "For any buyers they bring, they get 75% and I get 25%," he says. "If I bring the buyer, I still give them 75% of the commission and I take 25%. If they work my listings, they get 25% and I get 75%. If they get a buyer off my listing, they get 75%. If I give them a buyer, they pay me 25%. If it's their listing or their buyer with no affiliation to Spina, it's 100% their deal. It's a fair and reciprocal concept. We also have a 60-40 split on certain transactions, such as paid lead products."
4. Adapt to the New Normal.
Since the pandemic, Spina Group started using Matterport 3D virtual tours.
"We've started doing more floor plans for people who can't get out to see a property," he says. "It's phenomenal. Zoom technology has become the new face-to-face factor in our business. We use it with a lot of office [administration] and conference calls, and we are doing more virtual and FaceTime showings with agents physically at the property and using an iPhone or iPad for walk-throughs."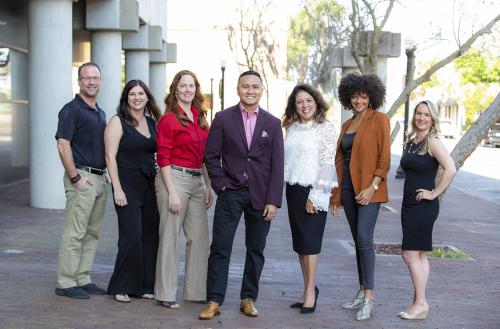 Julie Heimbach
Gate Arty & the Group
Teams were a rarity 15 years ago when Gate Arty launched the Group at Keller Williams Realty in Lakeland. "Honestly, I winged it because there was no template to follow," he says.
One thing Arty was sure of: He wanted to build a team designed for longevity. "Some are designed where agents stay one to two years and move on, but I never wanted my team to be a launching pad. I wanted to attract agents looking for a situation where they could stay and evolve."
1. Make Smart Hires.
His first hire was an administrative person to handle oversight and management from contract to close. "That person is still with me," he says, adding that he empowered her to make decisions and problem-solve like a CEO. "There's no facet within the organization that she isn't capable of doing."
2. Create a Culture of Unity, Respect and Growth.
The Group now consists of four full-time administrative staffers and about 20 agents. To build a solid team, he says it's essential to create a culture of unity, respect and growth. "It's really a personality fit," he says. A bad hire can disrupt your team culture and cost you money. He notes that Keller Williams uses personality tests such as KPA (Keller Personality Assessment) [they recently switched to KPA from DISC] to help identify the skill set, motivation and work ethic of prospective hires.
3. Meet Regularly and Coach Team Members.
His team meets monthly, and agents are offered coaching, mentorship, classes and goal-setting opportunities. "Newer agents have different needs and might require coaching. Keller Williams now offers programs designed to assist agents in the growth of their business. That's helped me stay on the right track. I'm still the rainmaker, doing lead generation, assisting agents, meeting with clients, consulting and going on appointments."
4. Adapt to the New Normal.
Faced with isolation due to stay-at-home orders, the Group sought counsel and guidance from one another. "We rally around and help each other," Arty says. "In lieu of meeting with sellers directly, we do video meetings with Zoom or FaceTime, and we do lots of virtual showings for buyers who can't do in-person showings. Our office was shut down—only our essential administrative team was onsite—and we met with everyone else virtually to keep them safe." Aligning with the team gave his agents resources to achieve goals they wouldn't have been able to accomplish on their own. "During the pandemic, we took time to dissect what we were doing right and wrong."
Arty sees his team as one big happy family reveling in each other's success. "I get great joy out of the victories my team members have; it's just as invigorating as if it happens to me personally. Crises like the pandemic expand the radius of worry to include your extended family of business partners and their spouses, children and parents. It was reassuring to know that we were all praying for comfort and safety together."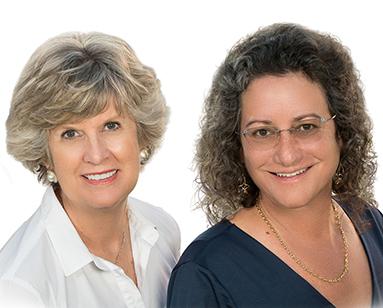 Sand & Land Team
Beth Livers, leader of the Sand & Land Team at Berkshire Hathaway HomeServices—Florida Realty in Vero Beach, likens her small team to a marriage."You're not going to like everything about another person, but there must be mutual respect," she says. "Communication is key; a team member who's unhappy should voice their concerns."
1. Find a Compatible Partner.
Sand & Land currently consists of Livers and her fellow producing agent, Maria Caldarone, as well as a part-time social media person who handles search engine optimization (SEO), Google Ads, Facebook and Instagram. They also have a full-time person, Mary, to keep the team organized and handle administrative tasks. "If I have a last-minute showing, Mary will open up the property," Livers says. A third sales associate, Heather, is currently on loan to the brokerage. "The office begged us to let Heather handle the rental department, and we negotiated her release, but she will be back."
2. Small Can Be Mighty.
In a small team, it's important for everyone's strengths to complement each other. Fortunately, that holds true for Sand & Land. "Maria and I are simpatico on most things," Livers says. "I have an accounting background with an MBA and Maria has a law degree, and she also owned a homebuilding company. She has a good handle on marketing—I'm a numbers person—and she does some team management."
3. Stay Involved and Hold Team Members Accountable.
Commission splits have always been challenging for Livers. "When it's the season, clients are here for three months, so you have to be available. I used to be a general manager of a golf club, and I enjoy putting people together—I always have someone in mind to introduce to somebody else." She and Caldarone are involved in the community and do a lot of charity work. As an accountability measure, she keeps an ongoing spreadsheet of each transaction. "[As lead agent] I clearly do the lion's share, but as I'm doing the spreadsheet to turn in for payment I will say, 'OK, how much work did everyone do? If you're the source, you get x percent for sourcing. If you're showing or doing an open house, you get x amount for that.'"
4. Adapt to the New Normal.
The Sand & Land Team completely revamped its marketing during the pandemic. "Video tours and Facebook Live events were our go-to marketing for new listings," Livers says. "We stayed on top of our client base by touching all of our clients—past and current—with a wellness check about buying and selling. My team, Mary, Maria and other agents who aren't part of our team helped me keep the ball rolling and the business going."
Livers says the pandemic also taught her that she can't always rely on the tried and true. "It's been good for us to look at our marketing program with [a discerning] eye. Berkshire Hathaway is strong on marketing. We recently wrote five contracts in one week. One was for a $3.2 million home that we listed in January. The buyer saw it on FaceTime and never set foot in the house. I'm constantly getting emails from people up North and even from California, and I think we are going to have strong third and fourth quarters."
Every team has its own culture, shared values and goals. Whether you're building a small four-person team or guiding a dozen or more agents toward their goals, take time to develop a strategy with clearly defined roles and expectations for everyone—and encourage open communication.  #
Leslie C. Stone is a Vero Beach-based freelance writer.