News & Media

Eti Ammos/Gettyimages.com
4 Steps to Rebranding Your Real Estate Business
A rebrand can help position your business in a fresh new light. Here's how two teams merged and launched a cohesive identity.
When The Jills® and The Zeder Team, two major players in Miami's luxury residential market, joined forces in 2019 to become The Jills Zeder Group of Coldwell Banker, they knew they would need to rebrand to reflect a unified identity.
But this wasn't your average merger. It was the blending of three families (and two generations) of Realtors® with deep roots in the Miami-Dade community—and an extensive global reach. The Jills featured founders Jill Hertzberg and Jill Eber, as well as Hertzberg's children, Danny Hertzberg and Hillary Hertzberg—plus Eber's sister, Felise Eber. Judy Zeder and her children, Nathan Zeder and Kara Zeder Rosen, made up The Zeder Team.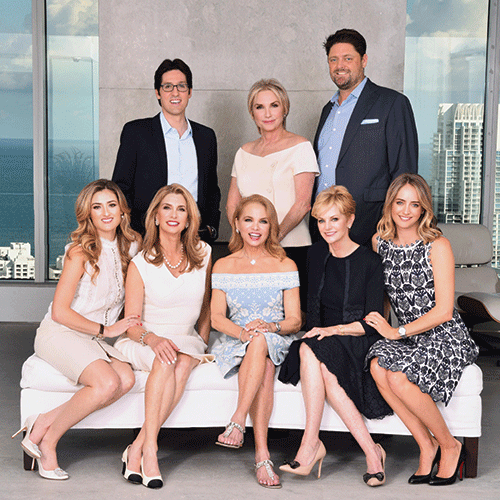 Finding time for such an extensive undertaking seemed monumental, but the pause during the pandemic allowed the group to fully contemplate the image they wanted to convey, says sales associate Danny Hertzberg, who spearheaded the effort. "We worked nonstop on our rebrand and website redesign during the shutdown back in March, April and May 2020." In October, they unveiled their rebrand with the tagline "Luxury Real Estate Just Got a New Look."
Here's how they did it:
1. Go all-in
"When you rebrand, you aren't just creating a new logo and putting it on all your marketing materials," Danny Hertzberg says. It's a well-thought-out strategy that involves rethinking and revamping every aspect of your brand's message, from marketing collateral to email signature to social media to your online presence and website. "You have to consider all of that and figure out how much it's going to cost in terms of both time and money."
Danny Hertzberg and his colleagues dedicated 12 months to creating a cohesive identity brand that included a sophisticated new logo and image, redesign of the group's website at JillsZeder.com, social media pages including Facebook, Twitter, LinkedIn and Instagram pages for Miami Beach and Coral Gables, ads, marketing materials, and signage. "Our green and white logo with its thin elegant font conveys our luxury brand, and the three palm trees represent The Jills Zeder Group's three families," he says. The royal palm teal color we chose is a deep green that reminds us of Biscayne Bay."
2. Get a different perspective
He found inspiration by observing luxury brands outside the real estate industry. "We looked at the logos and branding of luxury goods, lifestyle brands and high-end hospitality brands that [cater to the wealthy consumer]," he says. "Since we sell high-end luxury, we wanted our logo, font and the look and feel [of our] website to match the type of product that we sell."
3. Divvy it up
The fewer people involved in the overall decision-making process, the better. "In teams and partnerships there are lots of opinions," Danny Hertzberg says, "and that can be quite challenging because everyone sees things differently." What's more, in a team of varied ages, members tend to focus on different elements according to their demographic. So, rather than design by committee, one or two individuals were designated as points of contact for specific segments of the rebrand. During the final stages, the entire group offered their critique. "Their input helped to ensure that everything was correct," he says. Before launching the rebrand, they asked clients and other agents for feedback. "Sometimes you don't realize how dated your brand is until you step back and take a hard look at it."
4. Announce it to the world
In the build-up to the launch, they focused on getting the word out through social media. He notes: "It was the most effective, quickest and economical way to do it, and a lot of it was organic through stories, posts, videos and static pictures of the brand. We did a makeover of all our logos at the same time, and we also placed newspaper and magazine ads and sent e-blasts."
A comprehensive rebrand isn't inexpensive, Danny Hertzberg says. "The biggest investment is rolling it out to create a new website. But you're getting sellers' and buyers' attention, and the new listings that result should more than pay for the cost. We've seen that already."
Leslie C. Stone is a Vero Beach-based freelance writer.