News & Media

Gorodenkoff/Gettyimages.com
4 Ways Virtually Staged Listing Pics Really Pay Off
Here's how one agent uses virtual staging to showcase his listings and help buyers visualize the property's potential.
Nick "Tiger" Quay, team leader of Nick Quay Real Estate Group at Avanti Way in Sunny Isles Beach, recently landed a million-dollar listing in one of the most sought-after, high-end luxury communities in Miami. The catch was that the home was in such poor condition that most agents might deem it unsellable or too time-consuming to bother with. But where others see obstacles, Quay sees potential.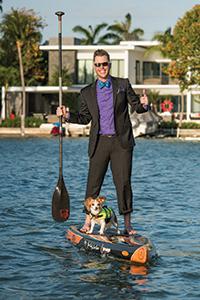 He didn't want buyers to be turned off immediately looking at the listing online. But, thanks to a cloud-based service called BoxBrownie that Quay started using three years ago, it doesn't matter what condition the property is in. Whether it's outdated, cluttered or a teardown, he can always showcase it in the best light. All he does is take photographs of the property and uploads them to BoxBrownie, whose image editors can do simple photo editing, enhancement and item removal or more complex virtual staging, 360-degree virtual tours and digital property renovations. "The world around us has changed; to adapt, we have to change the way we do business," he says. However, he cautions, always be honest with people and disclose that the photos have been virtually staged, are renderings or show the potential of a property and are not of the property itself.
Here are a few ways he uses BoxBrownie:
1. Enhanced photo listings
Quay stages properties at all price points, not just high-end listings. BoxBrownie's image enhancement costs $1.60 per image and includes easy fixes like image sharpening, brightness, contrast and tone adjustment, outdoor sky replacement, digitally adding flames to a fireplace and lawn enhancement. For $4 per image, "Day to Dusk" photo retouching will add a sunset and interior lighting to give the image curb appeal and a homey feel.
"It also lets me change paint colors," Quay adds. "A pink princess room can easily become a slate gray office. Our main job as listing agents is to make the home appealing so we can sell it for the highest amount possible."
2. Effortlessly declutter 
One of Quay's multimillion-dollar condo listings in Miami's Brickell neighborhood was so cluttered it would've taken days to physically remove everything and get it photo-ready. "The owners' hat, purse and shoe collection filled a walk-in closet and spilled over into the bedroom," he says. Quay had professional photos taken and sent them to BoxBrownie for virtual staging. "They digitally removed all the rugs and replaced the furniture except for a midcentury-modern Eames lounge chair with ottoman that looks like it came right off the set of 'Mad Men.' It was just too nice not to include."
"That condo was previously listed with someone else who never did any of this. I sold it and broke the record for price-per-square foot in the building.."
3. Photo-realistic renderings
When a property needs a renovation or teardown—or it's preconstruction—BoxBrownie gives Quay the option to virtually recreate the space via 3D internal and external rendering (starting at $280) that includes façade, landscaping, lighting fixtures, layout and potential furnishings.
"It lets you renovate or build rooms [from scratch]," he says. "Then, you can stage the space with flooring, counters, art, furniture, fixtures, bathrooms, sinks, tubs, etc., and even put the right car in the driveway." He adds a disclaimer that it's a rendering of a home that is not yet under construction.
4. 3D walkthroughs
BoxBrownie's 360-degree virtual tours let prospects see the property from every angle. "You can create an entire room that people can virtually walk through with a VR [virtual reality] headset like Google Cardboard or on their cell phone, computer and some smart TVs," Quay says. He takes photos with his 360-degree camera, uploads them to BoxBrownie (via app or website) and receives the virtual tour within 24 hours.
Although there are several services from which to choose, Quay chose BoxBrownie because he met and formed a friendship with Brad Filliponi (owner/founder), Mel Myers (owner/CEO) and Peter Schravemade (global director of marketing, sales and revenue). "They're a family type of company, a real brotherhood," he says. "Our niche is problem-solving and virtual high-touch, high-energy, high-level customer service with a focus on creative marketing; and BoxBrownie has helped us get the most exposure possible for our listings."
Virtual staging services
Leslie C. Stone is a Vero Beach-based freelance writer.