News & Media

Hola Illustrations/Gettyimages.com
7 Ways to Make Your Property Listings Pop!
Not getting the views and clicks you want on your property listings? Here are some ways to showcase a property's assets and attract potential buyers.
You sit with a few of your real estate friends for drinks, and everyone boasts about how many clicks their properties got and how fast they sold. Squirming internally, you quickly finish your drink and wonder why yours don't. Let's face it, trying to write a catchy, informative listing description can give even the most experienced sales associates writer's block.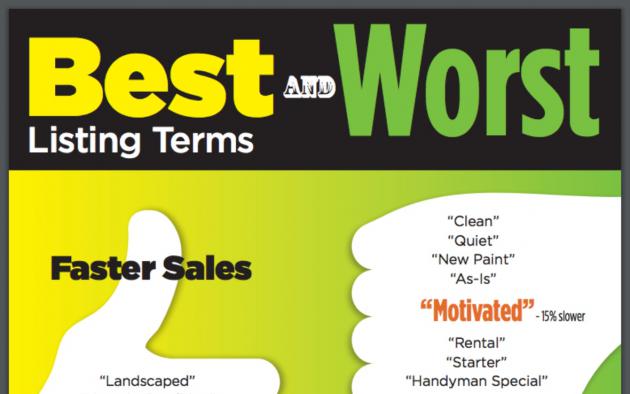 Here are 8 words you should never use in a house listing description — and 8 other words that you should. 
Even seemingly unsellable properties can benefit from a wow property listing description. As Philippa Main learned, a funny, honest and creative listing description can move even the least promising fixer-upper. She did just that and the listing went viral, resulting in a sale in just three weeks.
The increased competition of digital marketing in the real estate space is on the rise, and the pandemic accelerated that trend. This causes saturation, which means it's possible your property descriptions stopped working because they're simply not seen or read. We break it down.
Even if you have the best listings in the world on your website, but it gets no visitors, nobody will see them. It's like expecting the best salesperson in a shopping center to make sales with the mall doors closed. Use analytics software, such as Google Analytics, to measure incoming traffic. Lead generation (visibility) issues could be fixed using organic traffic platforms via blogs (SEO), social media presence, paid ads and public relations, like guest posts, podcast appearances and interviews.
Once you've analyzed those marketing analytics, think about the property description. Are you relying on photos to tell the story without a property description?  Some MLSs have character limits, and some don't. To make the most of the space, you must write a compelling and informative description that includes features and benefits.
But what if you do get views but no clicks or calls? Something is missing in your message.
First, remember, there's a formula to writing listing descriptions. Follow it and you're sure to attract eyeballs. You want potential buyers to get excited about the property, imagine themselves living there and contact you for more details.
The formula is this: Write a creative headline, identify three features, describe them and the benefits, include specifics and end with a call to action.
Here are seven tips for getting people to click on your listings:
1. Make the headline pop.
The address itself is not a headline. It's just another address in an endless list of properties for sale. When you see an address that you don't recognize, do you get excited? A headline that says: "775 W. Harmon" is boring. "Move in Today to 775 W. Harmon and Wake Up Tomorrow to the View of Unicorn Lake" grabs attention and sparks imagination.
2. Determine what makes the property special.
Specificity equals competency. It shows you know your market, your area, its trends and its needs. Is the property close to a school? Mention the school's name. Is it close to a major highway? Specify how close. Is the house on a lake? Add the lake's name.
3. Tell a story. 
An oceanfront terrace is a unique benefit. A Miele appliance is a desirable feature. "Never worry about your reliable Miele stove giving up on you before a family gathering" is a feature that sounds enticing. But, you also want to sell unique benefits of living in this home and peace of mind, not just the desirable amenities. People want to know what makes this property stand out. They want to visualize how they will sit on the oceanfront terrace, smoking a cigar, or reading a book while the wind blows gently.
Weave these unique benefits and features into your description and transform your property listing into a story. Stories are a great way to communicate an idea. Most importantly, in these vivid stories, you, the storyteller, act as the guide, leading the buyer to become more interested in this home.
4. Keep it short.
Large chunks of monotonous lines (walls of text) deter readers and make them skip reading and seek refuge in pictures. Short sentences are better. The younger the audience, the shorter their attention span. Make it easy to read. Consider smartphone screen sizes in the process. In this scenario, less is more.
5. Don't mix copy and numbers.
Your prospect should never have to go back through the description to find the number of beds/baths or the selling price. Numbers should always be separated from the story (text) when possible. It makes the information easier to digest, and the decision-making process for the prospect is faster. First impressions count.
6. Be honest about the property.
Your copy must align your "story" with reality and not mislead potential customers. It's easy to glorify a property with flowery words and phrases. But, it's more important to be honest and direct while focusing on the strengths of the property.
7. Have a clear call to action.
Always include a line that prompts potential buyers to do something. Some examples are: "Call today for a free home tour—no obligations," or "Last viewing is tomorrow at 8 p.m. Call now to secure your tour."
Writing a property listing description isn't difficult if you grab the attention of the prospect, communicate clearly, tell a story invoking emotions and back it up with logic and a call to action. 
Tom Gil is a U.S.-based freelance writer.