News & Media

Carol Yepes/Gettyimages.com
Steal these 10 Ideas From Realtor Podcasting Pros
Marketing magic can happen when you connect with the community in a meaningful way — and a podcast positioning you as a trusted local resource can do that.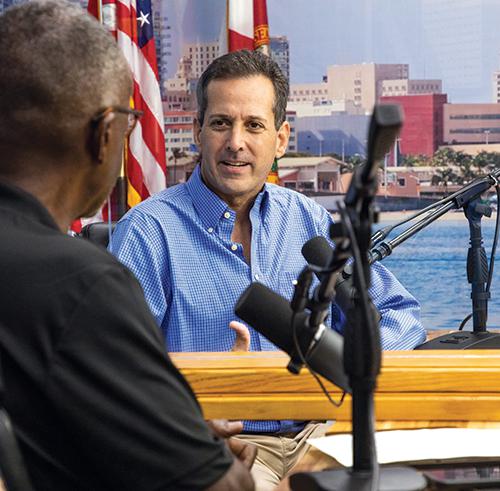 After tuning in to one of Hal Feldman's podcasts, a couple reached out to him for help buying a lot to build a home.
The buyers—a wealthy family with three kids—were looking to move out of Doral to be closer to private schools. Feldman provided deep research and custom tours as he assisted them with their search. On their wish list? Land in Pinecrest or an old tear-down to build an $8 million home.
"They reached out because they saw I was different and diligent in my real estate knowledge," says Feldman, of RE/MAX Advance Realty in South Miami. "The podcast gave them my personality, which compelled them to call. No other media works like this."
Feldman hosts a 30-minute live broadcast each week called Live With Hal Feldman, taking a community-focused approach with his podcast. To maximize the podcast's reach, Feldman also provides it on-demand, which is how his buyers discovered him.
Here are Feldman's top tips for hosting a community-focused podcast.
1. Focus on building community relationships
Long before he launched his podcast, Feldman made a point of interacting with the community on a deep, meaningful level and nurturing these relationships through meetings, lunches, events, emails and phone calls.
Throughout his years in real estate, Feldman met council members, community activists, politicians, police and fire personnel, and community organizers.
Initially, Feldman tapped into this network "to bring out the big guns"—people the community already knows and trusts—as the first guests on his show.
As the show gets more established, he's interviewing activists and other well-known locals.
"These community activists can enhance my audience's knowledge of why different areas are worth different prices and what's going on besides real estate in this community."
For instance, he interviewed an independent seniors advocate to explain the right way to help parents and grandparents live safely. Earlier in the year, Feldman had Miami-Dade County Mayor Daniella Levine Cava on his podcast.
"Since the Surfside tragedy, I've scheduled a follow-up appearance to discuss the real estate impact of this horrific event," explains Feldman.
2. Partner with a trusted source
To officially launch his podcast in January 2021, Feldman partnered with a trusted community resource—Miami's Community Newspapers.
"It's very effective because there's already a trust between the newspaper group and the community."
3. Position yourself as the local expert
"With a community-focused approach, marketing yourself as the local expert becomes easy," says Feldman.
He shares his expertise as a seasoned agent, but he also interviews industry experts like attorneys and mortgage brokers, as well as local business owners and community leaders. "I'm able to amplify my presence in the neighborhoods I serve."
4. Use a mix of promotional tools
Feldman promotes his weekly podcast both before and after the show through social media posts and newsletters, highlighting the episode's community issues and guest speakers. And because his broadcast runs on Miami's Community Newspapers' Facebook, YouTube and Twitter channels, he gets cross-promotion from them, too.
With dozens of episodes under his belt, Feldman says his weekly podcast creates two-way relationships, producing word-of-mouth marketing he could never buy. "I promote myself as the 'everyman' Realtor®, pointing to my podcast and the ability to connect people to the market in a meaningful way," he says.
Khalid Bryan, broker, The Investment Property Gurus, Fort Lauderdale, and host of the podcast Khalid Sold It, offers these tips to help you podcast like a pro.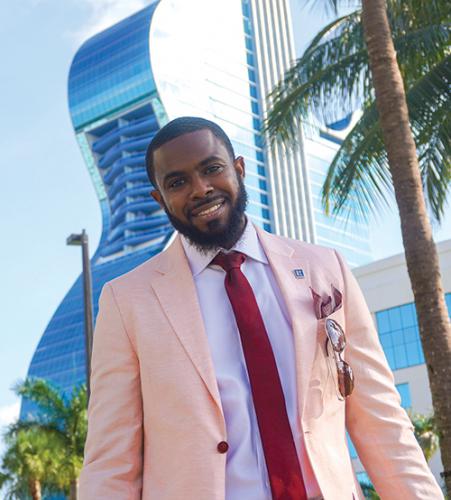 1. Don't go solo!
Guest speakers and co-hosts are crucial to success. They keep the conversation spicy, add commentary and provide a different perspective.
2. Make it easy
While most people are excited to be on a podcast, increase your odds of a "yes" by sharing the subject matter. That helps guests alleviate the stress of thinking they won't have anything of value to say. Have a brief, pre-show conversation to demonstrate how podcasting is just an organic conversation that happens to be recorded.
3. Plan topics around what people are searching for
The best podcasts answer common questions—and sometimes uncommon-but-important questions you didn't know you needed to know. Post the content that you would look for.
4. Be flexible in how the conversation flows
While your episode needs a focused topic, you don't need pre-written questions. "I sit with my guest, start recording and have an organic conversation. We often forget we're recording and the questions flow. Listeners love reality!"
5. Engage with your audience
Provide an email to direct listeners to submit questions. Respond to any comments and share your growth and process.
Let people know when you'll be recording and releasing new content. When they see your consistency, they'll know they can trust you to keep providing them with content if they subscribe. You have to earn their trust and subscription.
6. Don't try to fit a mold.
Understand that everyone has an audience. Be your true self and let your personality shine to find your audience.
7. Maximize your content
Record video with your podcast audio so you can repurpose it. Upload the audio as a podcast, the video on YouTube then write a blog post summarizing the episode. Use bite-size video clips of the episode to make shareable short videos (about 30 seconds each) for social media. You can even make memes with screenshots of the video, giving educational content in one to three sentences.
8. Help people find your content
Use tags so your podcast can be sorted in the right category, add detailed descriptions and write a catchy title that tells listeners what they can expect to learn.
9. The best way to market your podcast is… produce lots of content!
The more searchable, shareable content you've got floating across platforms, the more likely you are to be noticed.
Sharing video clips and highlights from your show are great ways to show potential subscribers how interesting it is. A laugh here and an "oooh, aaahh" there from a clip makes people curious for more. A great book on this topic is "Superfans" by Pat Flynn.
10. Jump in!
Get out of the planning phase and start doing. I get the best results by sporadically recording content and saving it until I'm ready to edit and upload it. If I'm with a friend or client, I'll say, "Let's record something really quick!" In doing so, I have a backlog of content ready to go. I can upload weekly for months. Post what you like, delete what you don't and save what you're unsure about. Everyone has their own creative process.
Lisa Beach is an Orlando-based freelance writer.