News & Media

Please Steal These 22 Easy Content Marketing Ideas
How to get more likes to get more comments to get more engagement to get more sales.
"The engagement that [real estate professionals] should be looking for is to have their audience see themselves in the content that they share," says Martine Cadet, founder of the social media company Kaderique Media Boutique LLC in New Jersey and a speaker at the 2022 Florida Realtors® Convention and Trade Expo in Orlando.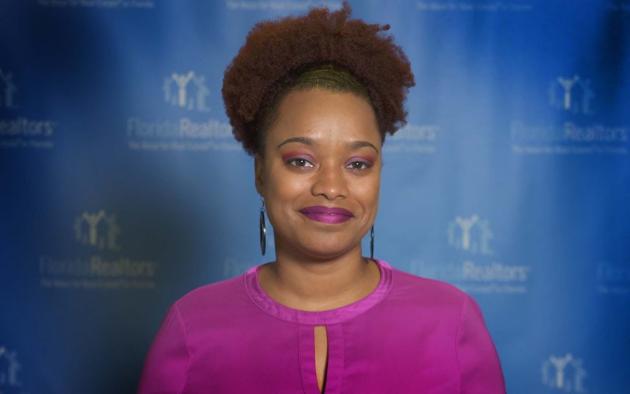 Are you using the "spray and pray" method? That is, are you sending out social media messages hoping the person who needs to read it does? There's a better way. Learn how to segment your audience and set up lists to target them directly.
"You want to trigger a feeling like excitement and combine that with information and education," says Cadet, who says real estate agents should consider these emotions with every post they make, no matter which platform they use. Cadet developed a framework for social media content that she says will boost the engagement of that content.
"I call it TERA—Trigger, Emotions, Relatability and Action." Simply put, she notes, bring in that emotional connection by sharing content that's going to enable the viewer to see themselves in that house, town or situation.
Here are ideas for posts that can do just that:
1. Share a personal story.
Have something funny happen at an open house? Or, have a crazy day that ended up with you writing five offers? Share that story. For Facebook, you could include a picture with a written statement. For Instagram and TikTok, a fun video would work. Be creative and relatable.
2. Congratulate clients.
Review your clients' social media posts for milestone events, such as a new baby or job. Then, share that post with your audience, with a note saying something like: "How exciting to share the news that my client has just gotten her dream job! Well done, Mary."
3. Try a poll or a quiz.
This is especially popular on Instagram stories, where you can choose two pictures or two statements and ask which one people prefer. For example, post a photo of the mountains and the beach, or a ranch house and a mega mansion. People who see the story usually can't resist clicking one or the other.
4. Film an unusual or beautiful home.
Then, post the video on your social media platforms. Rather than post an entire walk-through, pick up to three interesting elements, like outdoor space, a chef's kitchen and a beautiful master bathroom. Then, show the outside of the home and highlights of the other rooms and spaces.
5. Share local real estate news.
Did a media outlet highlight one of the neighborhoods you farm? Did they interview a local Realtor® or expert speaking about the market? Share those videos on your newsfeed.
6. Highlight local restaurants and businesses.
Is there a new restaurant opening? Do you have some local favorites? Share your insights about the place and your favorite dish. Make this a regular post, and people will follow you for your reviews.
7. Answer real estate questions.
This is another option that is popular on Instagram but can be done on TikTok, as well. Highlight frequently asked questions from buyers and sellers, and film yourself answering those questions.
8. Show how you staged a current listing.
Post photos of before and after, and highlight how much of a difference staging makes when showing a home. Ask for feedback on how you can make it better.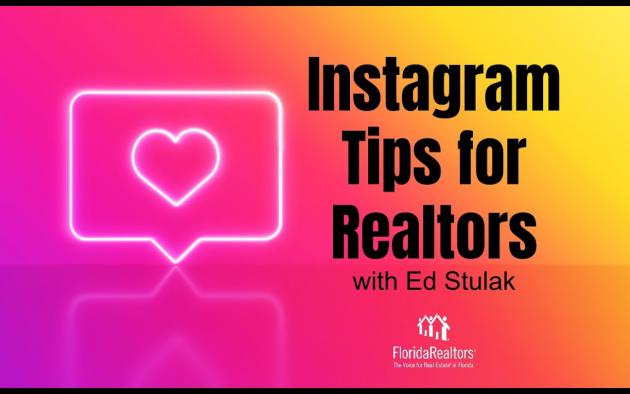 Your goal is to buy and sell houses, but obvious sales pitches on Instagram can turn people off. What works on IG? Content that is authentic, relatable and engaging. Here's some simple but effective advice on how Realtors can really connect with — and gain more — followers.
9. Post photos of local communities.
Does a local neighborhood have a great park? Highlight it, and ask viewers what their favorite park is. Create separate posts about the country club communities or golf communities in town. Make this a regular series.
10. Highlight charitable events and causes you support.
Attending a fundraiser for a local charity? Post photos from the event along with why you support that charity. Raise awareness for the causes you support.
11. Share fun facts about your area.
What makes your city unique? Are there any unique monuments, museums or landmarks everyone needs to experience? How many examples of unique local cuisine can you absolutely recommend? What about interesting plants, animals or vistas not found anywhere else? Source: AgentImage.com
12. Share interesting décor trends and paint colors.
Post photos of beautiful furniture, designer rooms and kitchens, then write about current trends in interior design. Film TikTok or Instagram Reels videos offering the top design tips for the current year.
13. Share infographics.
Florida Realtors® creates free customer-focused infographics that you can download, brand and share on your social media platforms. Topics include helpful tips for homebuyers and sellers, as well as answers to frequently asked questions, such as hidden costs of homebuying, financing tips, current market stats and more. Find the infographic collection at floridarealtors.org/infographics
Also explore Photofy—our newest Florida Realtors® member benefit, which features customizable and sharable consumer-facing graphics: floridarealtors.org/photofy
14. Post funny memes and stories.
Everyone loves a good laugh, as long as the meme is not political, racist or inappropriate. There are tons of funny, yet appropriate, real estate memes available. Check Pinterest and search "real estate humor" for options to share. You also can share funny and cute memes or videos. Dogs and babies are always a hit.
15. Share customer testimonials.
Get a glowing review from a recent buyer or seller? Post it to share the good news.
16. Highlight local events.
Every Friday, post a list of local events happening that weekend. Do it consistently, and people will check your Facebook page weekly to find things to do. You also might share information on free activities in your area, such as art festivals, boat shows and other events.
17. Share your passion.
Are you a runner? Highlight your favorite running trails around town. Love to boat? List some of the hot fishing spots or restaurants that have docks for customers arriving by boat.
18. Offer tips for first-time buyers.
Buying a first home can be confusing. Do a weekly series of videos or posts that offer tips to guide first-time buyers through the process.
19. Share seasonal home reminders.
Time to change the clocks? Holiday coming up? Post a reminder to your audience. You might also include reminders to change air conditioning filters or check batteries on smoke detectors, as well.
20. List local farmer's markets, ethnic grocery stores and farms.
Share information on how to support local farmers and where to find interesting foods.
21. Highlight your team.
Each month, highlight a member of your team, what they do and how they can help homebuyers and sellers.
22. Show the history of the area. 
Post historical photos of interesting homes, the downtown area or other interesting shots. You can even post a current picture of the area next to the old photo to show how much has changed.
The key to good content is to be consistent and interesting. Share feel-good stories and information that people can use. Be relatable to build connections with your followers. You're sure to boost viewer engagement and, eventually, start converting those likes to leads and ultimately, customers and sales. #
Tracey C. Velt is a contributing editor for Florida Realtor® magazine.