News & Media

Give Back to the Community — and Boost Your Brand
Four ways to put your passion into action and increase your brand awareness in your market at the same time.
Growing up, Angela Grannan was passionate about protecting the environment. She earned a bachelor's degree in environmental science and management, and she worked as an environmental consultant for commercial real estate for over two decades before becoming a sales associate in 2017.
Then, last year, when she and her husband and business partner, Chad Grannan, formed The GRANNAN Group in St. Petersburg, they decided to find a way to brand themselves as stewards of the environment.
"We thought, 'What can we do to set ourselves apart from others and give back to the community?'" Grannan says. The answer was simple: Plant trees. "I've always loved trees, so with every residential and commercial property we sell, we will be planting a native or non-invasive tree. If a buyer is buying a house, we will have a tree planted on their property; and we give sellers moving out of state or buying a condo—where it's not possible to plant a tree—the option to have one planted at a local conservation area, like a city park."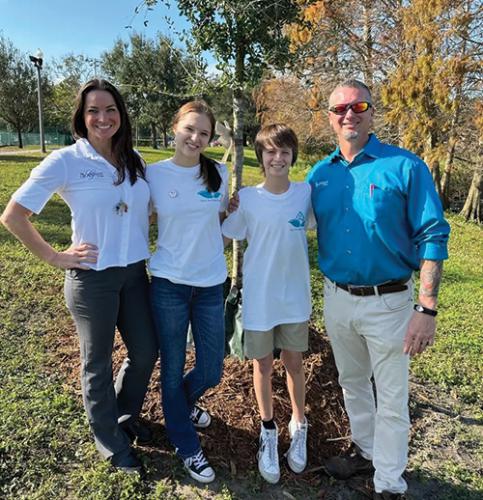 In January, The GRANNAN Group partnered with Keep Pinellas Beautiful—a Keep America Beautiful affiliate—and various state and local organizations to launch the Plant Your Roots program. They also filed paperwork to create a 501(c)(3) nonprofit.
Their tree-planting program is already becoming a hit within the community. In their first month alone, they had 12 trees scheduled for planting.
"You don't have to be a tree-hugging dirt worshipper like me to understand the importance of trees," Grannan says. "When you plant green things, the atmosphere cools down. In Florida, we can use all the shade we can get."
Here's their strategy:
1. Tie it to your brand.
The brokerage's tagline is Find Your Paradise, Plant Your Roots, Go Green With Grannan. "This encompasses our mission to provide outstanding professional real estate services while giving back to Mother Earth and raising environmental awareness," Grannan says.
The Plant Your Roots website (plantyourroots.org) includes a donation button as well as environmental education blogs, a map of trees planted to date and an opportunity for website visitors to shop for eco-friendly products, such as rain barrels, bee boxes, butterfly boxes and more.
2. Partner with the community
On Florida Arbor Day (January 20) The GRANNAN Group hosted a ceremony at St. Petersburg's Crescent Lake Park where they unveiled their first planting—a 65-gallon live-oak tree purchased from Wilcox Nursery & Landscape in Largo.
"We hope to start a 'Seedlings for Schools' program as well and go to local schools to provide education and seedlings for students to take home and teach mom and dad and, hopefully, have a place to plant them," Grannan says, adding that she also hopes to hold quarterly fundraisers in conjunction with a local conservation group. "We are thinking a silent auction or a themed event like an '80s night or a white party where everyone wears white would be fun."
3. Personalize the experience.
At closing, their buyer or seller is given a flipbook featuring a selection of trees. "Seasonally, there will be different options available," says Grannan. After the client chooses a tree, either Angela, Chad or their administrative assistant will reach out to Keep Pinellas Beautiful and provide the homeowner's address or the location of the nearest park. The organization then contacts one of the three or four local nurseries they source from, and a nursery worker goes to the home or park and plants the tree.
With each tree planted, a certificate of environmental stewardship is given to the property owner. The trees also come with care instructions and a slow-release watering system to keep them hydrated.
4. Spread the word. 
"I love that we are able to help people find their dream home and help humanity at the same time," Grannan says. They had already started creating affiliate relationships with three other counties within five days of launching the program. "As the program grows, I am hopeful that we will not just be selling homes and planting trees, but also helping people create an eco-friendly lifestyle," she adds. She envisions the program growing nationally. "If somebody lives in Wyoming, for example, and is moving here or vice versa, I would be happy for them to find the Keep America Beautiful affiliate in their area and do it there. Selling houses is obviously our bread and butter, but this environmental stewardship is important to my heart."
Leslie C. Stone is a Vero Beach-based freelance writer.