Press Release

Realtor® Cindy Browning: 'Flipping' for Attainable Workforce Housing
ST. JOHNS COUNTY, Fla. – When David Heekin, founder of Landmark Title in the Jacksonville area, told Cindy Browning, an agent with Round Table Realty and president of MAC Home Development, about a perfect investment house that could be renovated and flipped for his Landmark Foundation, she was all in.
David bought the property from us, we renovated it and sold it to a veteran who needed a lower mortgage but couldn't find what he needed in the market," she says. "I didn't take a commission that sale. We donated it to the Foundation."
Since then, she was hooked. Browning identifies properties that can be remodeled and sold to low-income families. She then donates her time and resources to oversee the renovations and organize the contractors. "We put the customers first," she says.
A member of the Northeast Florida Association of Realtors® (NEFAR), Browning believes strongly in her community. "I flip houses on a daily basis – I do it because I want the communities to look better and the houses to have more value," she says. "I believe in revitalizing communities. So, when this idea came about, I wanted to get involved."
Her business has always been about helping people in desperate situations.
"We deal with people who are in bad situations every day – short sales, family deaths," Browning says. "It's really important to be to help these people get through their struggles. So, I help them on the front end to get rid of a problem property and on the back end to get someone who thought homeownership was an unattainable dream to find a home."
The program is called the Homeowner Initiative Program.
She explains, "A group of lenders in Jacksonville have first-time homebuyer grant money. They match up buyers who apply for the program with the grant money, then they can turn around and purchase a renovated house."
Those wishing to apply have to fill out a questionnaire, must live in Duval County and have other qualifications. In addition to the grants, closing gifts are given such as "a washer and dryer or a shed," Browning says.
The last buyer she worked with was a veteran.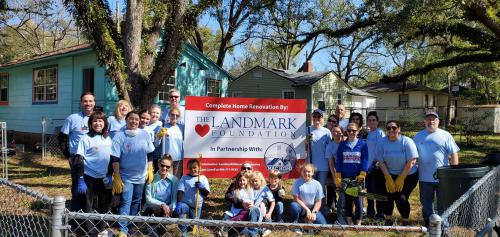 "At the closing table, the energy was crazy," she says. "He went from a one-bedroom apartment where he could hear the people upstairs to a single-family home with a yard – something he never thought would be possible for him. It's really important for us to do quality work and help these buyers get good houses with affordable mortgages."
The Landmark Foundation is the 501(c)(3) charitable arm of Landmark Title. At every closing, $10 is donated to the Foundation to support local, charitable causes. They work with Realtors to buy and renovate single-family homes for deserving families in the area.
David Heekin adds, "There's an incredible need within our community for handicap accessibility. The city of Jacksonville has a waiting list that is currently over one year long. We help Builders Care to build ramps for those in need. All services and materials are donated."
Browning is also involved in the ramp-build days. "We call them Ramp Day and volunteers go in and build the ramps in less time than if the homeowner went through the city," she says.
The goal, according to Browning, "is to renovate and flip properties again and again until we can renovate the majority of Jacksonville one day." It's a lofty mission, but one that Browning, Landmark Foundation and many other Realtors in the Northeast Florida community are dedicated to reaching.
Florida Realtors® serves as the voice for real estate in Florida. It provides programs, services, continuing education, research, and legislative representation to about 200,000 members in 51 boards/associations. Florida Realtors® Newsroom website is available at floridarealtors.org/newsroom.