Press Release

Realtor® Michael Wiesenfeld: Harnessing the Power of Music
MIAMI – Like most people, Michael Wiesenfeld, a Realtor® with The Freud Group in Miami, was feeling depressed and uneasy during the COVID-19 lockdown. "I was extremely stressed, and kind of spiraling negatively in my mind," says Wiesenfeld, who works alongside his wife, Zelda Freud. They're members of the Miami Association of Realtors®.
Wiesenfeld manages properties in many areas of town and noticed that some of the tenants were feeling the same way. "We own and manage properties in some areas that are not wealthy. That's part of our business. We could see the distress of people and that put things into perspective," he notes.
Wanting to help people, an idea popped into his mind. After all, French-born Wiesenfeld has friends in high places, mainly international star David Guetta, a French DJ, record producer, and songwriter.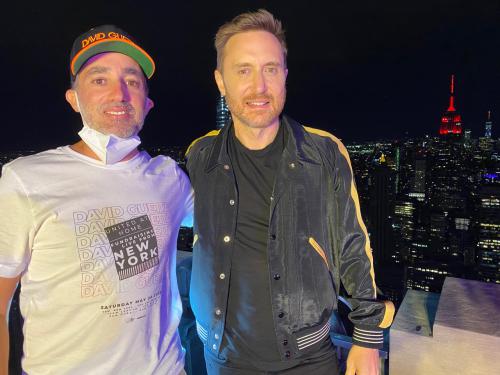 What if he could arrange a rooftop, free concert featuring David Guetta to bring a bit of joy to people stuck in condos during the pandemic. A quick call to Guetta's partner and United at Home was invented. Not only would Guetta perform a 100-minute set from the roof of the Icon Brickell building, but they would collect donations to aid the World Health Organization, Feeding South Florida, Feeding America and France's Fondation des Hôpitaux. They raised about $800,000 [$400,000 plus a matching gift from Guetta] on that first event and provided a bit of joy and hope for those feeling trapped in their houses. Money was raised through a Facebook campaign and a link, davidguetta.com/donate.
"We had no expectation that it was going to become a sensation. Our goal was to do something different and local," says Wiesenfeld. "David ended up performing from the pool deck on the 15th floor of a condominium complex called Icon Brickell."
The condo complex has three buildings and 1,800 units. In total, people from seven condo buildings were able to watch and hear Guetta perform. "We also had drones flying around streaming video," Wiesenfeld recalls.
Due to security reasons, the concert wasn't announced ahead of time.
"People found out the day of the concert and we asked them to put flags from their home countries on their balconies. It was amazing," he says. "David would see the flags and call out the country and wave to the people. I think we were the first to bring a live event to a virtual global audience. We used Zoom to broadcast it throughout the world. It was a party around the world."
The event was so successful, that Wiesenfeld, Guetta, and the team decided to expand it. Since then, Guetta has performed in New York City, Russia, Paris, and Dubai. With the second one, in New York City, they were able to secure sponsors and raise even more money for charity. The charities they chose were local to the city, as well as some national charities.
Wiesenfeld says, "All told, we raised a little shy of $1.8 million. We were seen by over 100 million people on social media, mostly Facebook and YouTube."
Right now, the group is working on a show in India, however, they had to hold off because of a spike in COVID cases there.
"We would like to do this in different cities on an annual basis," adds Wiesenfeld. "Eventually, we can gather people in stadiums but also on Zoom or in a virtual universe so people can meet and party. Now that we've built the brand, we want to take it to the next level with big sponsors so we can raise more money for charity. And the concerts don't always have to be with David. He will always be the Godfather of this program, but we want to invite other artists as well."
What's most important is that they were able to bring entertainment and raise money for vital causes during one of the most trying times in our recent history.
Wiesenfeld says, "We had the opportunity to help, and we did. It was a great feeling."
For information on when the next concert will be, or to donate, go to http://www.davidguetta.com/donate/?v=1623273300000.
Florida Realtors® serves as the voice for real estate in Florida. It provides programs, services, continuing education, research, and legislative representation to about 200,000 members in 51 boards/associations. Florida Realtors® Newsroom website is available at floridarealtors.org/newsroom