Press Release

Realtor® Moriah Taliaferro: NAR's '30 Under 30' Class of 2022
SARASOTA, Fla. – As a business management and marketing major at Florida State University, Moriah Taliaferro did not intend to go into real estate. Sure, her dad was a real estate developer in Central America and her mom earned her real estate license in 2008, but "I never really imagined myself getting into real estate," says Taliaferro.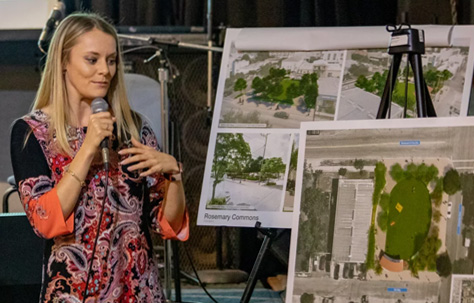 But an internship with Wyndham Vacation Ownership got the ball rolling. "They were incentivizing interns to get their real estate license so they could earn commissions," she says. "My mom told me to go for it and because of that I was able to pay for my entire senior year of college based on the commissions I earned at that internship."
Taliaferro, now a sales associate with Premier Sotheby's International Realty in Sarasota, realized that she was pretty good at sales, so after graduation, in 2015, she went back to work with her mom. Taliaferro soon was hired by a developer, and she "sold their two projects. That's how it started, and it's evolved since then."
Taliaferro was named as one of the National Association of Realtors®/Realtor® Magazine's 30 Under 30 class of 2022, which recognizes rising stars in real estate.
Taliaferro came to Florida from Colorado, spending eight to 10 hours a day training for ballet. "Ballet was my life until I was 17 years old," she says. The discipline required to train and attend prestigious ballet schools – such as the Kirov Academy in Washington, D.C., and the Royal Ballet of London – was ingrained in her long after she stopped training. "At 17 years old, I had a breaking point. I was burned out. It wasn't a passion anymore. It became a job."
But, she adds, "I applied the consistency and discipline to my business." That extends to her YouTube channel about the Sarasota area and her extensive marketing, which includes TikTok and Instagram.
Now, after working solo for several years, Taliaferro is forming a team.
"I focus on luxury. My clientele are typically retirees who are buying second, third or fourth homes," she said. "I focus on new construction sales, whether it's representing developers or clients who are purchasing in other new construction projects." She currently is representing three projects in the Sarasota area and is active in several community projects in the area.
Taliaferro is one of only two Florida agents chosen from among the hundreds of nominees for NAR's 30 Under 30 class of 2022. For more information on 30 Under 30, go to https://magazine.realtor/30-under-30
Florida Realtors® serves as the voice for real estate in Florida. It provides programs, services, continuing education, research, and legislative representation to about 225,000 members in 51 boards/associations. Florida Realtors® Newsroom website is available at floridarealtors.org/newsroom