News & Media

Nora Carol Photography / Getty Images
Florida Realtors Debuts New SunStats Interactive Data Tool
As a Realtor, knowing your local market and being able to share the latest local data trends with clients is key to your business. SunStats can help.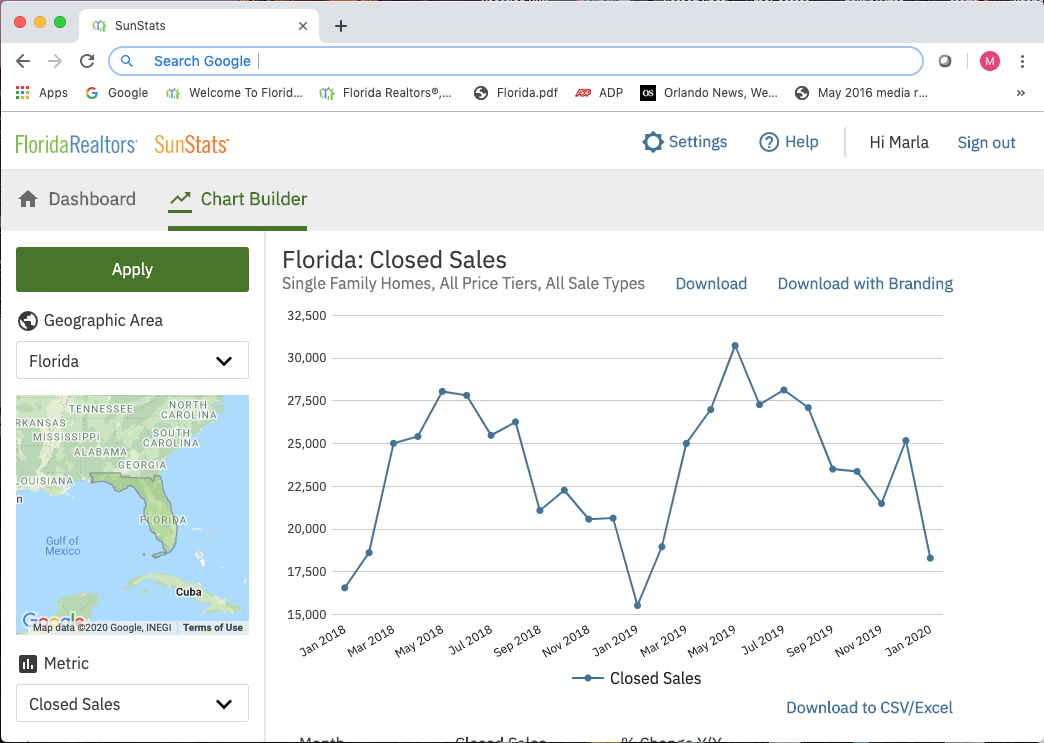 ORLANDO, Fla. – As a Realtor, knowing your local market and being able to share the latest local data trends is key to your business. And, Florida Realtors has launched a new interactive data tool – SunStats – to help members do just that through this robust, user-friendly resource.
"My No. 1 priority since I joined the research department at Florida Realtors back in 2011 has been to provide our members with the industry's most timely, accurate and comprehensive housing market statistics," says Florida Realtors Chief Economist Dr. Brad O'Connor.
"Our monthly market reports have truly been a great success, but they also have their share of limitations. They do look great, and considering how geographically diverse our state is, the reports do a remarkably good job conveying information despite having to conform to a 'one-size-fits-all' format. But in the end, they're just static PDF documents, and those will only take you so far."
That's one of the reasons why Florida Realtors Research is excited to offer SunStats to members, he explains. Moving to an interactive, web-based platform means a range of new capabilities. Members can log in to SunStats at sunstats.floridarealtors.org (password required).
The SunStats tool, which can also be found in our website's Tools & Research section, features three main parts: a dashboard, a chart builder, and a report builder.
The dashboard presents users with a quick glance of the metrics, a year-over-year comparison, and a line trend of a year's worth of data. Users can customize the area displayed in the dashboard to their local area. The chart builder tool lets Realtors select their geography, metric, property type, price tier and more to display custom graphs and tables. The "Compare By" feature allows users to show additional data breakdowns by displaying more than one geography, metric, property type, etc., in a single graph.
Plus, SunStats' chart builder not only creates the data series but it also has multiple export features. The chart can be downloaded with or without branding for use on marketing materials, emails to clients, or social media. The data table can be downloaded as a CSV/Excel spreadsheet for further analysis. SunStats can be used on a laptop, a tablet or a mobile device.
"The SunStats Dashboard has it covered, if a Realtor just wants a quick overview of the latest figures from your market area," adds O'Connor. "If a member wants to build a historical chart of sale prices for a particular city or ZIP Code, that can be done in the SunStats Chart Builder. Say a Realtor wants to export a chart with his or her own personal branding to share with a client – they can do that, too. And it can all be done quickly and easily on a smartphone!"
The SunStats' Dashboard and Chart Builder are now available and accessible to members; however, the research department is still working on the final elements of the Report Builder. That feature should be ready to debut later this year.
O'Connor says, "When it comes down to it, real estate professionals need access to reliable market data in order to make good business decisions and provide expert market advice to their clients. SunStats is really about unlocking the full potential of our market statistics for our Realtor members and putting the power in their hands. And this is really only the beginning. The capabilities of SunStats will continue to expand over time, with exciting plans in the works – so members should stay tuned."
Need help with SunStats? Call Florida Realtors Tech Helpline for assistance at (407) 587-1450.
© 2020 Florida Realtors®