News & Media

Skynesher / Getty Images
Clever Real-Estate Video Ideas That Go Beyond Just Listings
While there's no "one right way" for Realtors to use videos, adapting a unique approach can help you stand out from your competitors.
With video so prevalent in our daily lives, how can you tap into its power as an engaging, visual marketing tool?
As a Realtor, you can use video to inform buyers, drive sales, increase brand awareness and deliver key messages. When buyers and sellers go to your website, read a handful of blogs and watch a dozen videos, they feel like they already know you. Videos turn cold leads into warm ones, serving as a gentle introduction for your business.
"We use our media presence to help people recognize who we are," says David Siddons of Douglas Elliman Real Estate in Coral Gables. "We created a video that highlights our core beliefs, what we stand for and how we separate ourselves from the pack."
Read on to find out how four real estateprofessionals market themselves with video.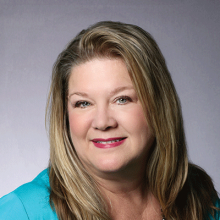 Take a light-hearted approach
Brenda Christian, Realtor, eXp Realty, an agent-owned virtual brokerage
Idea: Add a dash of humor to a retro video
Christian's videos: myhistorictampa.com
Success: When a mutual creative friend needed the perfect home to feature in a short film he was producing, he turned to Brenda Christian. Wanting to bring some levity to the surreal situation of living in quarantine, he told Christian about his concept—a pandemic spoof with 1950s styling—and she was all in.
The 55-second video featured a new homeowner nicknamed Quarantine Bill (outfitted in a hazmat suit) who was thriving in this "new normal" thanks to his recently purchased home. The home was an actual listing that Christian suggested—a 1950s property in South Seminole Heights that evoked that mid-century modern look.
"The film wasn't done as a moneymaker for either of us," Christian explains. "The intention was, we're in a really weird place, and you can still buy a house." The video garnered more than 5,000 views on YouTube and landed a feature article in Orlando Weekly, putting Christian and the filmmaker (Black Label Films) on the map.
Tips:
Just do it! "It can be hard watching yourself, so don't overthink it. Take your time, edit it a little bit, but then, just post it!" Christian advises.
Promote videos on a variety of platforms. Share them on industry websites (think Zillow and Trulia), your website and social media (from old standbys like YouTube to newcomers like TikTok.)
Combine pro and DIY approaches. Let your professional photographer do double duty. "Mine shoots both stills and videos and creates visual, 360-degree property tours available in the MLS," explains Christian. But don't overlook the DIY approach. You can record simple walk-throughs of each property using your smartphone.
Think beyond marketing. Tap into the engaging appeal of video and use it for multiple purposes. Besides marketing, Christian uses videos to provide online coaching and agent training.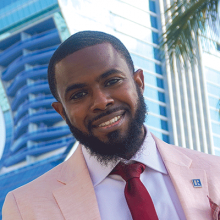 Combine podcast and video
Khalid Bryan, Broker-Owner, The Investment Property Gurus, Fort Lauderdale
Idea: Create an in-house content studio
Bryan's videos: KhalidSoldIt
Success: At 29 years old, Khalid Bryan opened his first brokerage in January 2020 and leaned heavily on video marketing.
"We use no flyers, postcards or social media ads," explains Bryan. "All we do is make videos, promote them and the calls come in. Most of my business comes from my videos."
Bryan's most popular video, "What It Takes to Be a Florida Real Estate Professional," has garnered more than 10,000 views since it posted in 2019, with people drawn to his give-it-to-me-straight approach.
"I made the video that I was looking for when I was starting out," Bryan says. His content focuses on reaching investors and training real estate agents. "If I put out content and answer frequently asked questions, then it should give people more confidence in me—especially because I'm younger. It's a way to create my own first impression."
Recently, his videos morphed into a podcast.
Realizing he needed to get microphones to improve his video's sound quality, he decided to go all in and design a full creator studio. "If I need to buy something expensive, I find as many uses for it as possible so it's worth the investment," explains Bryan. He set the equipment up in his office and his podcast, Khalid Sold It, was born.
Tips:
Start where you are. "My first videos were horrible," recalls Bryan, "but you've got to start somewhere. And you'll get better as you go." Whether you learn new techniques, download helpful editing apps or splurge for upgraded equipment, you can continually improve.
Be real. In his videos, Bryan tells it like it is—including his struggles. "Put yourself in front of the camera and be 100% yourself," Bryan advises. "That's what people are looking for. They appreciate your candor."
Don't look at the screen when recording a video—It will throw you off.
Push past your fear. "My biggest fear? No one is going to care what I have to say or think this is good enough," Bryan reveals. "Just speak from the heart. There's a community for everything."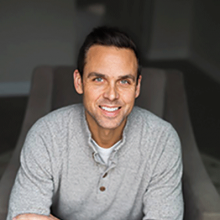 Showcase passion for community
Chip James, Realtor, Keller Williams Community Partners, The James Group, Miamisburg, Ohio
Idea: Shine the light on your community
James' videos: ChoosingDayton.com
Success: Chip James strives to produce one purposeful video a month to spotlight his Dayton community, showcasing the renaissance it is going through. The videos promote small businesses and highlight local resources and neighborhoods. "Video can show your emotional tie to the community and belief in it," explains James.
He further demonstrates this through his Real Impact initiative to benefit local charities. Rather than a closing gift, James donates money to a cause close to his client's heart. He created a video called "Real Estate. Real Impact." With more than 800 views, he says the video has positively impacted his own business. "People already have a feeling of who I am when they meet me."
He also produces a video series on Instagram called "Hey Chip," which is both feel-good and informative. James answers FAQs and shares past clients' stories of why they love to live in Dayton. "We're not making movies here, but they should tell a story," says James, who records his one- to two-minute videos on his phone. Over six weeks, James answered 50 questions in these videos.
Tips:
Provide valuable information, with a real estate twist. If you're highlighting a local coffee shop, what does this mean to the community? Explain how this business brings growth to a community or provides a walkable venue for the neighborhood. This helps establish the real estate connection and positions you as the local expert.
Don't worry about perfection. "Yes, the quality is important, but don't let the fear of not having the best quality stop you from doing it," says James.
It might be hard to measure tangible results. "You can't really tie a video to how many times your phone rings or which deals came from a video," he says. "But it's great for brand awareness."
Stay competitive. James advises, "If you're not doing video, your competitor probably is." Don't hesitate—just start.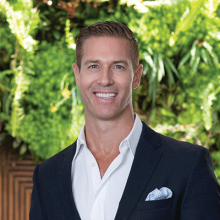 Tap the power of professional videos
David Siddons, Director of Luxury Sales, Douglas Elliman Real Estate, Coral Gables
Idea: Hire a full-time professional videographer
Siddons' videos: LuxLIfeMiami
Success: In 2012, David Siddons stood in a penthouse in Brickell, took out his iPhone, shot a video, and posted it on YouTube. One week later, he got a call from a buyer and closed the deal soon after.
"Clients then started coming to me," says Siddons, who quickly recognized the value of video. "I moved from being no one in the office to the top producer in two years," he says, with video being a big part in his success.
Siddons started creating regular content, including listing videos, explainers and market reports. Along the way, he hired a full-time videographer, who helped him produce a whopping 470 videos.
They live on a variety of platforms, including Siddons' website, YouTube, Instagram and Facebook. "Our production has increased substantially over the years," says Siddons, noting they've also increased their website traffic and conversion.
Siddons likens the process to a news program. "We come up with a story idea, like any news channel," he explains. "When we produce our report videos, there's a ticker tape running on the bottom of the screen, showing numbers for last quarter."
To ensure viewers are more holistically educated, Siddons often includes interviews with other agents and experts such as immigration specialists and attorneys. He says, "We embrace the experts in other areas, including other brokerage houses."
Tips:
You don't need to produce overly slick videos. "Just get them out there and be honest and sincere, giving your opinion and observations," Siddons says, noting that vulnerability makes you relatable.
Repurpose your content. You can capture people's interest with a video, but use that as a prelude to an article, blog post or report. "Let one feed into the other," he advises.
Understand what buyers and sellers want. First, they need to see the "products" you have, whether that's homes, condos, etc. Second, they want to understand the market—what are the numbers, the best neighborhood to live in, the community comparisons, etc. "Your videos should add value every time, helping people make decisions," advises Siddons.
Ready to get started using video—or ramp up your existing video marketing efforts? Grab your smartphone, think of what your buyers and sellers want to know, and start answering their questions through video.
Lisa A. Beach is an Orlando-based freelance writer.