News & Media

Meet the 2021 Florida Realtors Leadership Team
Your incoming Florida Realtors Leadership Team is ready to help members seize opportunities — and "Dare to Dream" — in the coming year, starting now!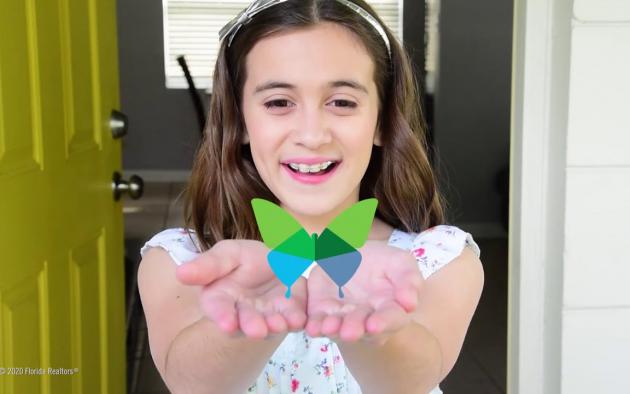 In 2021, Florida's Realtors will "Dare to Dream," using their dedication and professionalism to help people across the state realize the dream of homeownership. This Realtor anthem celebrates those efforts.
Raise your hand if you're happy that 2020 is in the rearview mirror. Despite stay-at-home orders and skittish buyers and sellers, we survived. Now it's time to thrive. And the 2021 Florida Realtors® Leadership Team is with you every step of the way.
"Florida Realtors is committed to inspiring, encouraging and innovating for its 195,000 members," says Cheryl Lambert, 2021 president of Florida Realtors. "We challenge you to Dare to Dream how to be the best you—personally and professionally. We encourage all Realtor members to increase their participation in advocacy to keep the momentum of a successful 2020 legislative program going."
"I believe 2021 is going to bring a whole new aspect of excitement of a new normal," adds Christina Pappas, president-elect. "Realtors are continuing to pivot, to shift and to adjust their business to what the world is now. There's a lot of excitement and buildup around what 2021 is going to be." Pappas highlighted the tremendous relationship Florida Realtors has with the governor and legislators who worked with the association during the pandemic to keep business going. "It's an intangible return on investment," she says.
Adds Lambert: "We will continue to insist the Legislature fully fund the housing trust funds. We'll continue to expand our global business program and technology services—the Florida Realtors Tech Helpline, Form Simplicity, SunStats and MLS Advantage."
Florida Realtor interviewed the leaders of Florida Realtors to find out what changes they made to their businesses during the pandemic and their outlook for the future. Here's a glimpse into the business leaders who represent you in 2021.
Cheryl Lambert, President
Broker, Only Way Realty Citrus, Inverness
Fun Fact: "I'm a Disney fanatic and still get excited meeting Mickey Mouse!"
Favorite Book: "Make Your Bed" by U.S. Navy Adm. William H. McRaven
Inspirational Quote: "If you can dream it, you can do it."–Walt Disney
The stay-at-home orders provided a unique opportunity for Realtors to better their businesses. "I was able to spend hours with our Florida Realtors Leadership Team to discuss and launch products, tools and services to help Realtors make a living safely amidst the crisis of COVID-19," she explains. As for her brokerage, Lambert spent time educating her agents on safety measures related to showing property and researching the government's mandates. "My agents had buyers and sellers who needed to continue with their transactions, and I had to ensure they were safe doing it," she says.
Lambert says she's excited about the many opportunities 2021 will bring. "Due to historically low-interest rates, we're encouraged about the power for consumers to continue to buy homes. It's also a fantastic opportunity for first-time homebuyers. Unless we build and create more attainable workforce housing, that demographic will continue to struggle to find homes they can afford. The full impact of the pandemic is unknown, and our commercial markets may pivot to react to new trends in office and employment offerings."
She also hopes to see a further stimulus to offset the negative impact of the federal eviction moratorium. "Landlords are struggling, and unemployment remains a problem throughout Florida. Hopefully, we'll see the tourism industry rebound, and many Floridians will return to work."
The pandemic has brought challenges and opportunities. "The entire industry went above and beyond for consumers. We pivoted to ensure real estate sales continued. Last year's Florida Realtors Leadership Team worked to empower Realtors everywhere to succeed. We plan to continue that innovation," says Lambert.
Christina Pappas, President-elect
Vice President, The Keyes Company, Miami
Favorite Inspirational Podcast:
Brené Brown (TED Talks and Unlocking Us podcast)
Fun Fact: "I was a four-time all-state violist and played in Carnegie Hall."
Favorite Tech Tool: Matterport
"One of the things we saw this year was the impact of advocacy and our Florida Realtors PAC dollars," says Pappas. "We are the voice for Florida real estate professionals now more than ever before." So, while she knows that members will need additional tools and technology, especially when it comes to video, she feels even more strongly that advocacy is at the root of what Florida
Realtors does for its members. "Being able to curate a message to our 195,000 members about the work we do with Tallahassee to help our members is essential," she says.
She also notices a trend toward Northeasterners continuing to move to Florida. "We are still going to see an influx of global and out-of-state buyers. People can work virtually and want a warm-weather climate where they can spend time outside year-round. This can only strengthen the real estate industry," says Pappas. She notices that people are accelerating their decisions for vacation homes and retirement because of the pandemic.
She also believes global buyers will come back strongly. "The great thing about Florida is no matter what's going on globally, real estate is a good investment for international partners. If things are not going well in their country, they want to get their money out. If things are going well, they have money, and they want to invest; and we're seeing that from our South American, Canadian and French partners. Ultimately, Florida is primed for tremendous growth in 2021. No doubt about it."
Mike McGraw, Vice President
Sales Associate, RE/MAX Central Realty, Lake Mary
Fun Fact: "I'm learning to play golf."
Rule to Live By: After three electronic communications, pick up the phone.
Motivational Quote: "Hard becomes easy; easy becomes hard," adapted from a more extended quote by T. Harv Eker, a motivational speaker
Like many agents, McGraw took advantage of the lull in the market to organize his database. "It's allowed me to target markets, so I get a better return on my investment for my marketing dollars," he says. He also earned his At Home With Diversity designation. "Social distancing for nine months emphasized the importance of physical interaction, of being connected. I've been more deliberate in the past few months, spending time with people and calling them to check on them," he says.
Being a leader, he says, means smiling more and speaking less. "You end up learning something just by sitting there and listening," he says. One thing he's not quiet about is his love for the Florida Realtors Tech Helpline. "I want to stay focused on improving and expanding the Tech Helpline. I feel like a lot of members don't know about all the services they provide." He also wants to continue to see Form Simplicity become the "dominant player in this space when it comes to Florida members."
Like Pappas, McGraw sees an opportunity for Florida real estate professionals to work with out-of-state buyers. "People coming from high-tax states will continue to drive the market." They also come for Florida's beaches and waterways, which is why Florida must manage its growth and figure out our water issues. The Leadership Team is 100% committed to having hard conversations about water quality, and we're on board to keep that at the forefront of the conversations," he says.
Gia Arvin, Treasurer
Broker-Associate, Matchmaker Realty, Gainesville
Fun Fact: "I did a Puppy Chow commercial when I was 5 years old. I was also in the movie Doc Hollywood."
Wants to Learn: "I wish I were better at public speaking."
Favorite Podcast: Lab Coat Agents (labcoatagents.com)
The pandemic was not easy for Arvin. Her parents passed away within weeks of each other last year. Because her mother, who started the firm in 1984, was ill when the pandemic began, Arvin assumed the broker duties. She learned Workplace via Facebook, researched a payroll service and implemented BrokerSumo, a new broker platform, to streamline and make everything easier for the Realtors in her office. She also reorganized and reclassified all of her contacts and laid out a benefits plan based on how many referrals they passed along. "What truly inspired me were the real estate professionals in the office who truly stepped up their game," she says. "Sure, they're more technologically savvy, but they're focusing on customer service and what they can bring to the table. They're connecting and making things happen."
In her role on the Leadership Team, Arvin is excited about programs at local associations. "I see these fantastic virtual events and activities. Wouldn't it be fun for Florida Realtors to put on a 'Shark Tank'-type event where local associations can present local ideas on a statewide level? I think 2021 will allow us to engage more with local associations.
"We have a Leadership Team that has never been closer than they are now," she continues. "Everyone is bringing something different to the table, but we all have a common goal—to serve the member."
Tim Weisheyer, Secretary
Broker-Owner, Dream Builders Realty, Celebration
Fun Fact: "I'm an incredibly picky eater."
Wants to Learn: How to be better at singing.
Finds Motivation: "I have been an Audible subscriber forever." Favorite topics: Health, wealth, business and faith.
Downtime? What downtime? Weisheyer, immediate past president of the Florida School Boards Association, spent a lot of time helping that organization adapt to the pandemic's impact. When COVID-19 hit, he was serving as president. His job was to bring resources or insight to the member school districts. He also spent time with elected officials and business leaders to make policy decisions that impacted the real estate community and the profession.
What inspired him the most, though, were the actions of real estate professionals and leaders around the state. "It revealed the heart and compassion Realtors have for their communities."
Weisheyer was equally impressed with how quickly Florida Realtors created COVID-19 resources for members and launched a virtual convention. "The 2020 Leadership Team and Florida Realtors staff pivoted the largest professional trade association in Florida into the virtual world. They did it with such competency and intentionality. They focused on ensuring members' needs were heard, understood and met."
Weisheyer wants to continue this type of leadership in 2021, providing members with the tools they need to succeed no matter what the market brings. "I want to build on the new-found member engagement in virtual platforms. I want to create sound solutions, if you will, to bring our members back together for the personal and social interactions that we all enjoy so much."
2021 is the year of opportunity for the Florida Realtors Leadership Team. "I encourage everyone to spend time each day reflecting on what's important in life and pull from those who came before us," says Lambert. "I commend our industry for their leadership during this pandemic. Now it's time for the 2021 Leadership Team to build on that success and get members prepared for future success."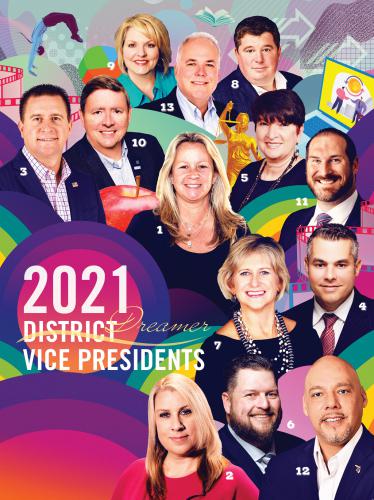 2021 DVPs
District 1: Heather Swanson
District 2: Melissa Goldman
District 3: Joseph Schlitt
District 4: Jorge Guerra
District 5: Ursula Weinkauff
District 6: Adam Grenville
District 7: Valerie Dailey
District 8: Nicholas Mihalich
District 9: Sabrina Burke
District 10: Richard Dempsey
District 11: Jarrod Lowe
District 12: Daniel Hernandez
District 13: Kevin Hyde
Tracey C. Velt is a contributing editor for Florida Realtor magazine.