News & Media

The Realtors Guide to TikTok Success
Take some tips from three agents who are having serious fun on the video-sharing app. You might be surprised how quickly you'll get a following, build brand awareness and generate leads.
Ed Stulak, broker-associate of Orbis Group at The Real Brokerage in New Brunswick, New Jersey, is known for his humorous, if not irreverent, TikTok videos that he says are "tailored for a Realtor's® laughter as opposed to a consumer's." He credits the platform with giving him worldwide attention he never thought possible.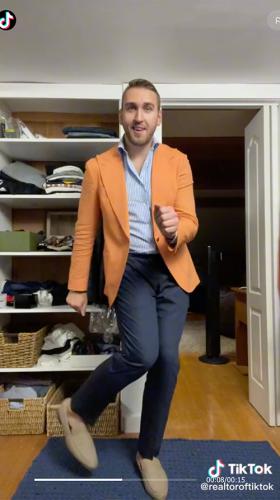 His @realtoroftiktok profile shows more than 25,000 followers and over 380,000 likes. He enjoys making people laugh and isn't afraid to show his silly side, even creating different personas for different topics. In one popular video from last May, titled "When You Show Houses All Day and Write Up $1.4M in Offers," he does a dance to a music clip of Doja Cat's "Get Into It (Yuh)," while wearing a tangerine blazer, blue pinstripe dress shirt, navy pants and beige pointed-toe loafers. In other videos, he wears a ball cap backward and recounts different situations with buyers and sellers.
One Realtor in New York saw Stulak's videos and direct-messaged him on Instagram about a potential business opportunity. "About 72 hours later, I was on a listing appointment for one of the biggest projects in my life: a 180-unit commercial luxury rental apartment project called Somerville Parc that we are currently leasing out in Somerville, New Jersey. TikTok gave me the exposure, which allowed me to start the conversation that funneled down to a business opportunity. It's those types of cool engagements that I love oh so much."
Since its initial release in September 2016, TikTok has amassed 1 billion monthly active users worldwide. The app is wildly popular among Gen Z and millennials, but middle-aged adults (Gen X and baby boomers) are discovering that, if done right, it can be an effective marketing tool.
Here's Stulak's strategy:
1. Give before asking.
The key to success on TikTok as a real estate professional, Stulak says, is to avoid being too salesy. "People want to buy by seeing things they're attracted to, so you must give value, make people laugh and teach them something before you ask for anything. My top two components that I make sure to intertwine in all my content are humor and education. If I can deliver both of those, then I'm winning because people are taking something away that will make them either share it, watch it over and over again or keep me top of mind."
2. Just do it.
Don't get hung up on self-limiting thoughts or overthinking things, Stulak says. "Over analysis causes paralysis. This is where lots of people get overwhelmed. When you give yourself excuses like 'My hair doesn't look good, or my camera is no good,' you lessen your chances of getting exposure or going viral. So, pull out that expensive phone and take advantage of it by filming a beautiful piece of video. There are great apps you can use to edit it later."
He uses the Videoshop app to edit videos right on his phone. "I purchased the app about five years ago for $24, and I've been using it ever since. It's so easy and self-explanatory that anyone can figure it out. Canva, which is basically Photoshop for dummies, is good, too." He uses it on a laptop or desktop to create thumbnail art clips of his TikToks, YouTube videos and Instagram Reels.
3. Go Live.
"TikTok LIVE is underrated," he says. Live videos attract audiences all over the world. "Viewers don't need to be followers—random people can tune in—and from that you'll get a vast amount of new exposure."
He recently did a TikTok LIVE video and shared a booklet he was working on in Canva for a brand-new million-dollar listing. "A bunch of Realtors tuned in, and one guy reached out to say it was a gorgeous home and he'd like to see it. I'd never met him. He drove about five hours to meet me in person, and we talked for an hour. Now, he's going to join my brokerage."
That's #SoooBoca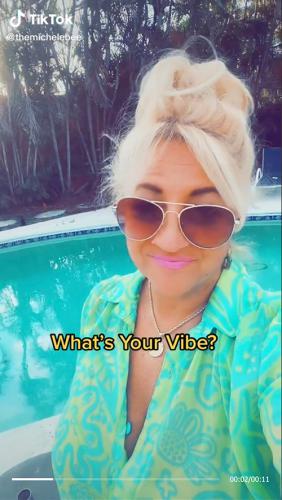 After picking up speaking engagements and referrals from Snapchat, Michele Bellisari, a Gen Xer with a penchant for following trends, felt sure that TikTok would be a worthwhile endeavor. "My daughters had been videotaping me for their snaps, and one day, I said, 'OK, show me how to use it,'" says the agent with The Real Brokerage in Boca Raton. She learned how to do short, behind-the-scenes videos that document her day and showcase her brand and community. Her @themichelebee TikTok profile has grown to more than 1,400 followers, and she cross-promotes herself on the Instagram and Clubhouse apps, which generate solid leads.
Here's Bellisari's strategy:
1. Make a heartfelt connection with viewers.
Bellisari talks to her audience as if they are having a one-on-one conversation. She started the local #SoooBoca niche in 2017 and tells viewers, "Hey guys, welcome to #SoooBoca. We love everything about Boca Raton and the surrounding cities in sunny South Florida. So, if you like food, the beaches, watersports, boating, makeup, things to do and places to go…come join us." On her "Steals and Deals Days" she posts about her passion for thrifting, repurposing and estate sales and shares her latest finds. "I'm all about being a resource and sharing good content," she says.
2. Spread positivity.
Her posts about Mondays, fresh starts, goals or starting a niche in your business are popular and she generously offers tips for agents, often cheering them on with a "You've got this" or "Go slay the day." In one video she says, "Hey, I'm a niche witch. So, coming at you with some niche-marketing tips. Realtors, listen in." Then, she directs them to her Instagram profile for more tips. In the videos, she wears bright, tropical-colored clothing and Lilly Pulitzer resort wear. In one video, she says, "Taking a spin around the neighborhood" while riding her bike on a sunny day as uplifting music plays in the background. Her yellow Lab, Brody, and Miniature Schnauzer, Benny, also make frequent appearances in fun videos set to the app's most trending music tracks.
3. Don't let age be a deterrent.
Lighten up and have fun with the platform, Bellisari says. "TikTok started to take off with adults after Jimmy Fallon did a collaboration with TikTok. I love him because he doesn't care about age—neither [did] Betty White or [93-year-old internet sensation] Baddie Winkle and people love them. Barbara Corcoran is a riot on Instagram. It's the same philosophy with TikTok."
In another popular video, Bellisari wears a bright pink top and sunglasses as the words "Blonde Hair, Don't Care" flash onscreen and she lip syncs to a track that says, "If there's anything you stop wearing at the age of 40, it's the weight of other people's opinions."
"TikTok is ridiculous and fun, and people find it quite entertaining," she says. 
Cafecito anyone?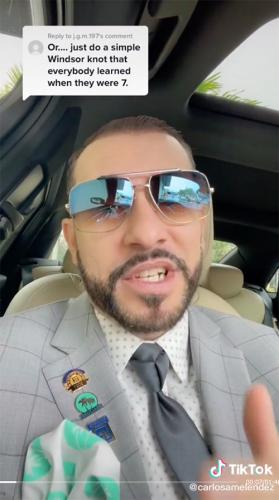 To stave off his boredom during the pandemic, Carlos Melendez started posting entertaining videos of himself brewing espresso in his kitchen and went from zero to over 2,000 followers in a month. "When I saw the type of engagement and followers that I was getting, I started experimenting," says the broker-associate with Florida Premier Realty in Boynton Beach.
He wanted to keep it fun but also generate business so, like Stulak, he began posting comical videos that other real estate agents could enjoy. After interest in those videos waned, he started posting about his culture, Puerto Rico and food—and those videos started going viral. "I'm like, 'OK, what can I do to maintain this?' so I kept posting different things about Puerto Rico and at the end of the video, I would pose a question or a call to action." He would show his mother making a typical Puerto Rican dish, for example, and ask his viewers "Is this how they make it in your home?" and his videos started blowing up. Today, his "Los the Realtor" @carlosamelendez has more than 60,000 followers and 1.1 million likes.
Here's Melendez's strategy:
1. Get into your groove.
Melendez primarily posts about his daily life. "It's 80% my culture, traveling, funny things that happen, food and the other 20% real estate jokes with sprinkled in walkthroughs of multimillion-dollar homes. You won't see me post a house unless it's something that's going to make you go, 'Wow.' If I'm walking you through a $13 million home that's got a walk-in refrigerator and things that you don't see in an everyday home, that's the kind of stuff that I'll post on TikTok. Real estate is the salt that I add here and there—it's not in their face 99% of the time—and when I do [talk about it] it's more on the comedic side."
Find your niche and have fun with it, he says, because it only takes one video to go viral on TikTok and boost your followers.
2. Join in on the trends.
Trending music and hashtags can boost your presence on the platform. Get some ideas by watching trending videos on the For You page. "If a new agent on TikTok wants to primarily focus on talking about real estate, there are a couple of trends they can do," Melendez says. "One is comparison videos. What I mean by that is our market here in South Florida is very different than, let's say, the market out in Boise, Idaho. One [trend] that has done very well with TikTok is when people do videos of, 'What does $300,000 get you in the U.S.?' and they might [do a parody comparison that says] 'OK, $300,000 here in Florida will get you a Fisher-Price plastic playhouse but $300,000 in Idaho might get you a four-bedroom, three-bath on an acre of land.' Things like that will [ramp up] your following because people are intrigued by the [comical] comparison."
3. Be consistent.
Melendez says TikTok users who are consistent will fare better on the platform. "If you have a workload where you can only post one video a week, then do that. But be consistent about it because if that one video got a lot of traffic, a lot of comments and views and then all of a sudden you went cold turkey and didn't post for three weeks, the system penalizes you. Now you're shadow-banned [where a creator's content is shown to fewer users]."
"Times are evolving, and we have to evolve with them," Stulak says. "Too many people think social media is all fake influencers and fake models, and there's so much more behind the scenes. TikTok is a beautiful platform that should not be neglected. It's good for folks like me who take advantage of it." #
Leslie C. Stone is a Vero Beach-based freelance writer.
Here's how to get started on TikTok
1. Try it out.
You don't have to become the next singing, dancing and lip-synching Realtor®. Watch what others are doing. Start out giving quick, informative tips or talk about  your market or new homebuyer mistakes. Incorporate a story or an analogy because people tend to learn better that way.
2. Showcase something unique.
Give viewers a look at a rare quality of the home or show a two-second clip of the kitchen or the backyard and add some background music.
3. Aim for "edutainment."
Short, fun and playful content creates a relatability factor that helps you break through and connect with your existing audience and attract new people who haven't heard of you. Pull a nugget from your day and share a life lesson or business lesson.
4. Repurpose existing content.
Go back to some of your long-form YouTube content and look for a snippet or a tip that you could pull out and recreate in a TikTok video.
5. Don't post it and forget it.
Take time to engage, follow and interact with others. TikTok's audience is a little different, so it's a great opportunity for agents to expand their sphere beyond those with whom they are already connected.
6. Engage locally.
Be intentional with following and liking other people's content, especially those in your local community. Spend 15 minutes a day and search for local businesses, sports teams, news stations, country clubs, coffee shops and events in your area. That's a big opportunity to connect with people who are local and get referral business.
Remember: Stop saying "Hey guys" or "Hey you guys" and instead say, "Hi there, how are you doing?" When you say "you" it makes your content feel a lot more personal. Be honest and authentic because you're not going to be everybody's cup of tea, and that's OK.
—Katie Lance, CEO/Founder of Katie Lance Consulting