News & Media

Steal These 10 Ready-to-Go Marketing Campaigns
Now is the perfect time to build a real estate marketing plan that includes these super-unique ideas. Get to it today!
Are you looking for fresh, cost-effective marketing ideas to up your game in 2023? If so, these 10 marketing ideas, some unique and some reminders, are your ticket to success in today's competitive market.
1. Have your business cards do double duty.
Is the back of your business card blank? Here are two ways to take advantage of that empty space.
• Print a photo of a current listing along with the date and time of your next open house.
• Partner with a local restaurant or other business to do a "buy-one-get-one-free" offer. When you give your card to a prospect, turn it over and explain:
The next time you're hungry for some great pizza, go to Bob's Pizza. Show them this card to buy one and get one free.
This approach is a win-win for you, your prospect and the business you're helping.
2. Update your CMA strategy.
It's time to beef up your old-fashioned comparative market analysis (CMA). Instead, create an "Equity Checkup" that combines traditional MLS information with the latest data from Artificial Intelligence (AI) automated valuation models. Here's how:
• Begin by searching your MLS for the average "Days on Market" for each market niche you serve. Also, determine how many listings are active or expired. If these numbers are increasing, property values have probably peaked and may even be declining.
• Next, search realtor.com for the number of active listings available in the specific price range and location you serve. Repeat the process using the same search parameters but add "price reductions" to the search criteria.
For example, I searched Winter Haven for three-bedroom, two-bath homes priced from $350,000 to $500,000—there were 295 active listings. Sixty-four (21.7%) had an average price reduction of $14,828.
I then searched a typical property in Winter Haven, which was originally priced at $399,000 but was recently reduced to $374,900. The three AI-based pricing models are displayed below.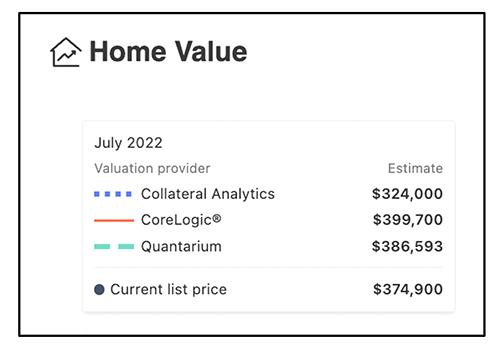 The high percentage of price reductions coupled with the three valuations above indicate this property has already peaked in value.
To beef up your Equity Checkup, add your own CMA plus Zillow's Zestimate. Please note: If two or more of the values agree, that's an excellent indication of the property's current value.
3. Stop throwing half of your listing leads away.
According to the National Association of Realtors®, 51% of the buyer leads that you ignored last year also had a house to sell. To take more listings this year, schedule face-to-face appointments with every buyer lead who owns a home.
4. What's being searched most often on Google?
To easily locate this information, search, "'Your city name' real estate for sale" on Google. For example, a search for "Tampa Real Estate for Sale," yielded the following most-asked questions:
• Are home prices dropping in Tampa?
• What is the best area of Tampa to live in?
• Is it a good time to buy a house in Tampa, FL?
• Where is the cheapest place to live in Tampa?
• Is Tampa real estate overpriced?
• Is Tampa in a housing bubble?
Use these topics to create videos, blog posts, podcasts and social media posts. Since Google owns YouTube, always post your videos there to get better search ranking. Since Google also relies heavily on LinkedIn data to determine their search rankings, be sure to post videos, podcasts and articles on LinkedIn as well.
5. Become a "video tourist."
Have you taken a "ghost tour," viewed local historical homes, visited local landmarks or taken a horse-drawn carriage ride through your area? These all make great YouTube videos that people enjoy. Best of all, you can share your videos on your website, in your digital marketing and across your social media channels.
6. Generate 10 to 20 buyer leads before your listing hits the market.
According to Jimmy Mackin, the CEO of Curaytor, everyone likes getting inside information. Here's how Mackin capitalizes on that approach in his email marketing campaigns.
Subject line: "I'm about to meet a potential seller."
Body: I'm not certain if this is right for you, but I'm about to meet a potential seller this afternoon at 2 p.m. Properties like this are currently selling rapidly in today's market.
Call to Action: If you're in the market, I can add you to my VIP list. The moment I can share the information with you, I will. If you're interested, let me know.
At your listing appointment, show the seller your list of buyer leads, and the listing should be yours!
7. Help buyers obtain an average of $17,000 of Down-Payment Assistance (DPA).
According to DownPaymentResource.com (DPR), 62% of Americans mistakenly believe they must have 20% down to purchase a home. Some 37% are unable to purchase because they lack the down payment. Moreover, the average amount of DPA provided last year through DPR was $17,000.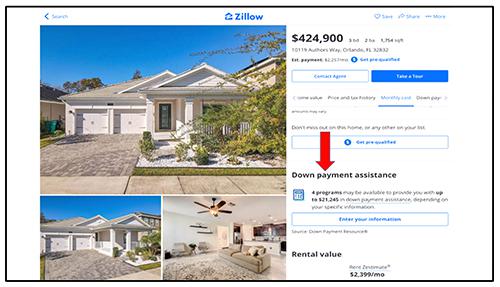 DPR and Zillow have partnered together to allow agents and consumers to easily access DPA programs available for active listings on Zillow.
To determine if DPA is available for an active listing on Zillow, begin by searching the property address. Next, click the blue arrow at the right of the "Overview" box to bring up the "Down Payment Assistance" tab.
For example, the property below has four programs with up to $21,245 in DPA.
Here's how to market DPA both digitally and in print.
Ready to become a homeowner now?
Down-payment assistance is available!
Contact Sally Agent at 800-555-1234 to learn more.
8. Tell buyers about the Florida Hometown Heroes Housing Program.
The Florida Hometown Heroes Housing Program makes homeownership affordable for eligible frontline community workers by providing down-payment and closing-cost assistance to income-qualified homebuyers so they can purchase a primary residence in the community in which they work and serve.
Eligible borrowers can receive up to 5% of their total loan amount (maximum of $25,000) in the form of a 0%, non-amortizing, 30-year deferred second mortgage.
Click here to learn more about the program. 
9. Eliminate the contingent sale problem.
Sellers are often reluctant to list their property unless they have located a replacement residence. "Power Buyer" models solve the contingent sale issue by either providing a financing solution or by buying the owners' current home so they can write an all-cash offer for their next home.
Here's your print and digital marketing campaign:
Ready to buy but need to sell your current home first?
Learn how to buy now before selling your current home!
Contact Sally Agent at 800-555-1212
Companies such as Accept.inc, EasyKnock, Flyhomes, HomeLight, Homeward, Knock, Opendoor, Orchard and Ribbon provide different versions of these programs but aren't offered in all areas of Florida. Before discussing these programs, investigate what types of programs are being offered in your area. Also, talk to your broker. They may have a partnership with one of them.
10. Help renters become homeowners.
Divvy Homes and Landis are power buyers that provide "rent-to-own" programs for buyers who lack a down payment. According to the Divvy website, buyers can rent a home while saving for a down payment. Divvy will buy the home and sell it to the renter when they are ready.
Here's your marketing campaign:
Renters: You won't believe this!
Rent your dream home while saving for the down payment.
Then buy it when you're ready or walk away with your savings!
Contact Sally Agent at 800-555-1212 to learn how.
Both Divvy Homes and Landis are available in most counties in Florida, as well as major metropolitan areas including Fort Lauderdale, Fort Myers, Jacksonville, Miami, Orlando and Tampa.
If you want to get the jump on the competition and close more deals in 2023, now is the time to put these marketing ideas to work in your business. #
Bernice Ross is a real estate coach, author and speaker with RealEstateCoach.com