News & Media

Hashtags, Geotags & More: Reach the Right Social Media Audience
Try these four social media strategies to get your real estate marketing in front of the audience you're looking for.
Alex Platt, broker of Platt Group at Compass in Boca Raton, and his wife and business partner, Margot, can attest to the fact that—as famed author Robert Collier put it—"Success is the sum of small efforts, repeated day in and day out." By posting regularly on social media and pairing their posts with a handful of carefully selected hashtags germane to their content, the Platts have amassed nearly 7,000 followers between Instagram and Facebook and made connections that have led to multimillion-dollar transactions.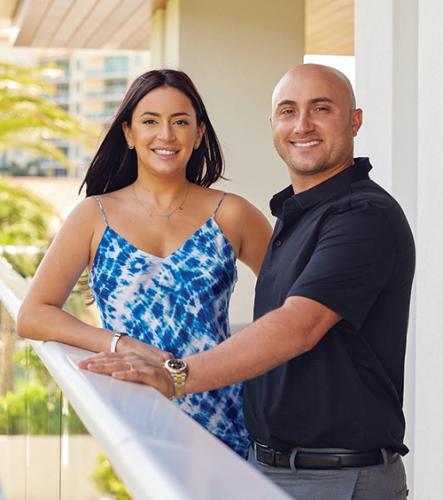 Recently, after sharing a walkthrough for a $1.5 million home to their Instagram stories, along with a few hashtags and a "check-in" to the neighborhood, the Platts received a voicemail from prospects in California. A brief FaceTime tour of the property soon followed, and the buyers made an offer. Another example is the time Margot Platt posted a photo of herself sitting at the pool with the couple's daughter and a buyer messaged to say they'd been following that neighborhood. "We set up a call and they bought a house sight unseen," says Alex Platt.
Platt Group has seen a correlation between new business and the consistency of posting and engaging with followers on social media. Alex notes, however, that it's sometimes indirect. "People won't necessarily say, 'Hey, I saw your post. Can I buy that house?' although it has happened. I have posted something like 'Check out this house in East Boca' and had a couple direct sales in the area as a result. If we weren't active on social media we would miss out on that opportunity." Their social media presence currently consists of Facebook and Instagram, but they plan to try their hand at TikTok sometime in 2023.
Here's how Platt Group uses social media to reach the right audience:
1. Show people you're just like them. 
The duo each contributes their own skillset to the brokerage, with Alex handling sales and Margot, also a licensed sales associate, managing general operations, social media and marketing.
They recommend posting as a Realtor®, but from your personal social media instead of a business account. "People like following the person, not just what they do in business," Alex Platt says, adding that users should be intentional about posting quality content that goes beyond the clichéd Just Listed or Just Sold genre. "Family-oriented posts work well for us because they show we're human and not merely marketing at people," he says. "When we go to Disney and post, people ask us about our trip. When we engage with them they'll remember, 'I learned about this from the Platts and hopefully look us up and see that we do real estate."
Alex and Margot also enjoy poking fun at each other and sharing posts of them playing with their kids.
2. Optimize hashtags.
Hashtags (#), also known as a pound symbol, are often the key to reaching prospects because they categorize posts and make them searchable. However, it's important not to go overboard with a long list of hashtags. "We don't like putting a book out there with 100 hashtags," says Alex Platt. "Around five to 10 hashtags is ideal for us because we want people to click on them." Chances are they won't bother if they see too many.
Platt Group's hashtags typically feature real estate-related words such as #realestate, and those that identify their business, such as #luxuryrealtor, #compass and #plattsellsproperties. Instagram remembers hashtags that an account uses the most, which helps to create consistency by suggesting previous selections as the user types.
3. Tie in the location.
Location-based hashtags give Platt Group the ability to home in on their target audience. "Checking in to specific locations is like adding a geotag that makes your posts show up when people search [a specific area via hashtag]," says Alex Platt. "Let's say we're at a restaurant or at Delray GreenMarket and we hashtag it, tag [the business] and check into the location." People can click on that tag in a post and go directly to the account without having to type anything. When the Platts tag a business, that entity will usually reciprocate by sharing the post. This entices people to check out the Platts' accounts.
"Royal Palm Polo is our neighborhood, and we will tag it and check in with a post that says something like, 'Love where you live' and people [will be intrigued] and think, 'Let me look into that neighborhood.' Or if they are looking to buy in Royal Palm Polo and see one of our posts they will think, 'Alex will know if there are any properties listed for sale there' and they'll end up working with us and hopefully buying."
Often, Alex or Margot will post with a hashtag for a specific community, and somebody will comment, "My mom lives in that neighborhood. I see that you sold a house there. Can I put her in contact with you?" "If we are featured in a Sun Sentinel article, we will create a post and include #sunsentinel and hopefully [the newspaper] will share us on their story," Alex Platt says.
When the couple go out with friends, family or neighbors they take photos to share it on social media. "People will see our photos and might say, 'Oh, I saw Joe at a party with Alex Platt. You should check out his page because he sells real estate, and aren't you looking to purchase or sell your home?' They will come to our page and see that not only are we successful agents but real people they could see themselves interacting with. It's about expanding your reach to as many people as possible."
4. Keep your brand at the forefront.
Platt Group's niche is luxury real estate in Boca Raton and Delray Beach. "We also like to attract people who are family-oriented like us," says Alex Platt. "We are not only husband and wife but also a team who works together every day. I think that we reach twice as many people because we tag each other so much and have a lot of the same followers who engage with each of us differently. Even if somebody isn't a husband-and-wife team, it would be important for their significant other to share their spouse's listings, success and daily life."
Alex stresses the importance of using uniform fonts and hashtags to keep your social media presence consistent and professional. "I've seen some posts that are a little juvenile, aren't well thought out and look as if someone is posting just to post," he says. "Branding is so important these days, so be true to your brand." When the Platts send mailers they include the usernames to their social media accounts so that people can find and follow them. "In this day and age, social media is where real estate professionals should be putting a lot of their effort," Alex Platt says.
Leslie C. Stone is a Vero Beach-based freelance writer.