News & Media

Keita Araki/EyeEm, Getty Images
Lots of Fla. Cities 'Best for First-Time Homebuyers'
What makes a city "best" for first-timers? WalletHub looked at 22 key indicators, such as attractiveness, affordability and quality of life. Top of the list? Palm Bay.
ORLANDO, Fla. – Not all first-time homebuyers are alike, and what they might find appealing can differ. But WalletHub looked at 300 U.S. cities and used "22 key indicators" to rank them. Those indicators include things like market attractiveness, affordability, quality of life, cost of living, real-estate taxes and property-crime rate.
Florida cities, both large and small, ranked near the top for first-time homebuyers.
Overall Florida metros in top 30 "Best Places for First-Time Homebuyers"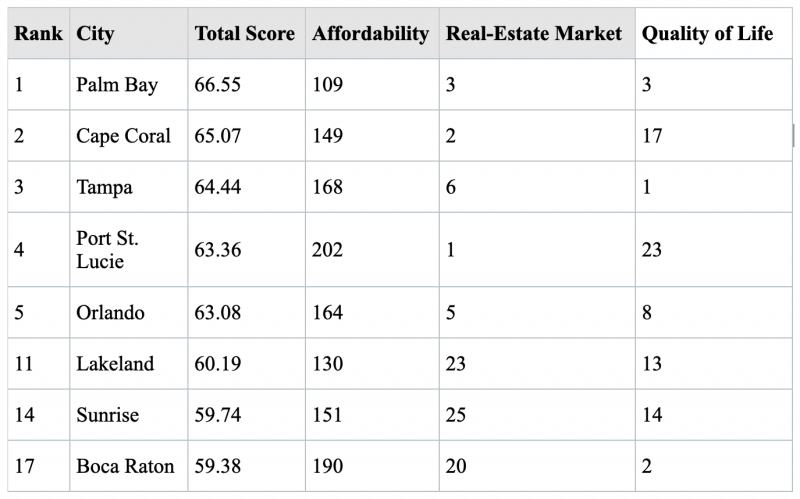 Florida large city rankings (out of 68 total)
1. Tampa: 64.44
2. Orlando: 63.08
10. Jacksonville: 56.88
28. Miami: 49.64
Florida midsize city rankings (out of 99 total)
1. Cape Coral: 65.07
2. Port St. Lucie: 63.36
11. Pembroke Pines: 57.52
15. St. Petersburg: 57.24
30. Tallahassee: 54.18
51. Hollywood: 49.95
53. Hialeah: 49.74
60. Fort Lauderdale: 48.43
Florida small city rankings (out of 133 total)
1. Palm Bay: 66.55
3. Lakeland: 60.19
5. Sunrise: 59.74
6. Boca Raton: 59.38
14. Clearwater: 57.24
18. Davie: 56.59
20. Miramar: 56.51
27. West Palm Beach: 54.77
38. Miami Gardens: 53.47
47. Plantation: 52.53
50. Gainesville: 52.14
54. Coral Springs: 51.95
60. Pompano Beach: 51.14
109. Miami Beach: 41.33
© 2023 Florida Realtors®