News & Media

Witthaya Prasongsin, Getty Images
Consumers Grew a Bit More Confident in March
The confidence index rose from 103.4 (Feb.) to 104.2, with future outlooks rosier than current ones. Many consumers plan to cut down on "highly discretionary" spending.
BOSTON, Mass. – The March Consumer Confidence Index from the Conference Board increased slightly to 104.2 – up from 103.4 in February.
However, attitudes about the future improved more than attitudes about today.
The Present Situation Index – consumers' assessment of current business and labor market conditions – decreased to 151.1 from 153.0 last month, a 2.9-point increase.
The Expectations Index – consumers' short-term outlook for income, business and labor market conditions – ticked up to 73.0 from 70.4 in February for a 2.6-point decrease. According to the Conference Board, the number has been below 80 for 12 of the past 13 months, which often indicates an upcoming recession.
"Driven by an uptick in expectations, consumer confidence improved somewhat in March, but remains below the average level seen in 2022 (104.5)," says Ataman Ozyildirim, senior director, economics at The Conference Board. "The gain reflects an improved outlook for consumers under 55 years of age and for households earning $50,000 and over."
Jobs have started to worry some Americans as interest rates rise and the economy threatens to contract.
"While consumers feel a bit more confident about what's ahead, they are slightly less optimistic about the current landscape," says Ozyildirim. "The share of consumers saying jobs are 'plentiful' fell, while the share of those saying jobs are 'not so plentiful' rose. The latest results also reveal that their expectations of inflation over the next 12 months remains elevated – at 6.3%."
In a special question this month, the Consumer Confidence Survey asked about consumers' about their spending plans on services over the next six months. Overall, they plan to spend less on highly discretionary categories, such as playing the lottery, visiting amusement parks, going to the movies, personal lodging and dining.
But consumers say they'll spend more on less discretionary categories, such as healthcare, home auto maintenance and repair, and economical entertainment options, such as streaming services.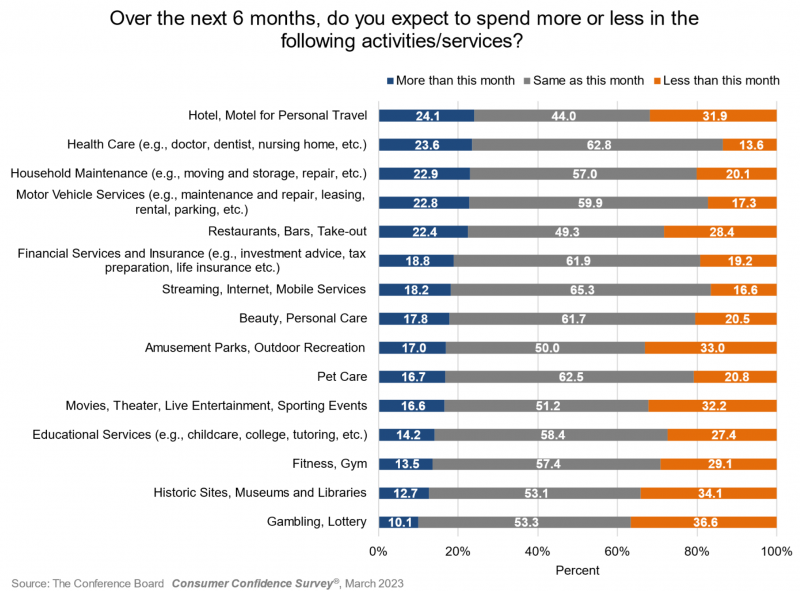 Present situation
Consumers' assessment of current business conditions worsened in March:
18.4% said business conditions were "good," up slightly from 18.0%.

But 19.3% said business conditions were "bad," up from 17.4%.
Consumers' appraisal of the labor market was less favorable:
49.1% said jobs were "plentiful," down from 51.2%.

10.3% said jobs were "hard to get," about the same as last month.
Expectations for six months in the future
Consumers became slightly less pessimistic about the short-term business conditions outlook in March:
15.5% of consumers expect business conditions to improve, up from 14.6%.

18.5% expect business conditions to worsen, down from 21.6%.
Consumers' assessment about the short-term labor market outlook was also a bit more positive:
15.0% expect more jobs to be available, up from 14.5%.

19.9% anticipate fewer jobs, down from 21.2%.
Consumers' short-term income prospects was, on balance, less upbeat:
14.9% expect their incomes to increase, up from 14.4% last month.

On the other hand, 13.6% expect their incomes will decrease, up from 11.6% last month.
© 2023 Florida Realtors®