News & Media

7 Ways Realtors Use SunStats to Build Their Business
Show your local market expertise to buyers and sellers with custom reports and graphics using free Florida Realtors® SunStats® data.
When Florida Realtors® SunStats® first became available, Kara Wisely, a broker-associate with Berkshire Hathaway HomeServices Florida Realty in Mount Dora, says she started using it right away to find data on the real estate market to share with her customers. "It's so good marketing-wise because you can use it to get listings and use it to educate buyers when they are putting offers together," she says. "It's something that can build up your business for sure."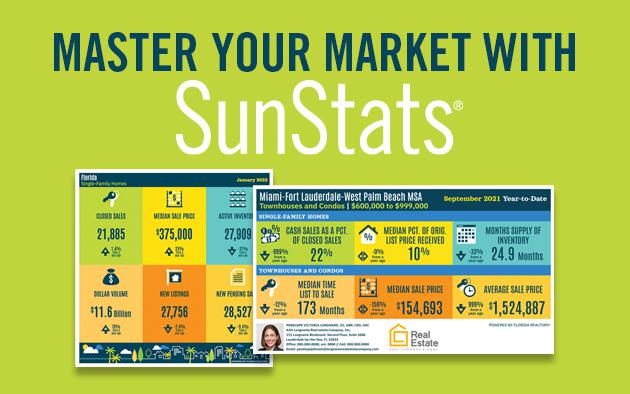 All the real estate metrics, charts, and data you need to master your market — branded to YOUR business and accessible on desktop, laptop, and mobile.
SunStats is a free, powerful real estate market research tool that offers real estate metrics, charts and data to help you stay on top of market shifts in your local market.
Here's how Wisely uses SunStats for her business:
1. Use the data in listing presentations.
SunStats can provide concrete data on what's occurring in the local market, which will enhance a listing presentation. "Whenever I go for a listing presentation, the first section I usually talk about is the home, and then I go into [the data], and SunStats is one of the stats I use [to let them know] details about where the market is, where it's going, and where it has been," Wisely says. Having those conversations can help sellers understand how to price their home and how long it could take for the listing to move.
2. Educate sellers on appropriate pricing.
SunStats helps Wisely show customers how pricing affects listings. "Many times, sellers want to price their home high to 'see what happens.' A few weeks later, if it's still sitting on the market, I'm giving them stats every week saying, 'This is why you're still sitting on the market. This is how many homes have sold in that ZIP Code and at what prices,'" she says. "This way sellers are kept up to date on what's going on in their area and are likely to lower the price of the home."
3. Help buyers put together offers that are accepted.
Buyers often want to go low with offers to land a good deal, but Wisely uses SunStats to show why that's not always a good approach. "Sometimes when they want to [submit] a low-ball offer, I show them recent sales and how much similar homes are selling for. I explain that the information I'm showing them is what the sellers are seeing, too," she says.
4. Boost your marketing efforts.
Florida Realtors members can use SunStats for free and use the product's Infographic Creator to turn data into visual graphics that grab buyers' and sellers' attention. "You can take the stats, produce an infographic, and post it to your social media. I also use the infographic for mailer cards or to market in a certain area to potential sellers," Wisely says. "You can show buyers on social media what's going on in [certain communities and cities], and you can post it easily. It's a good way to get people's attention for marketing."
Today's sophisticated buyers and sellers want information, and they want it presented in an easily digestible way. Infographics are the perfect way to show buyers and sellers what is happening in the market, and SunStats offers the information and ability to wow them.
For John J. Adams, president of Adams, Cameron & Co. Realtors in Volusia and Flagler counties, using Florida Realtors® SunStats® is essential for business.
"SunStats allows me to quickly show customers, agents and others exactly what is happening in our market," he says. "It also allows me to easily share the information on social media, which helps to establish our agents as the best source of information."
Here's how Adams uses SunStats for her business:
1. Pull data from multiple MLS systems.
SunStats data is based on such metrics as time, geographic area, property type and price tier. "SunStats pulls together data from across all of the different MLS systems," Adams says. "In our market, that is very important. We may have listings in four or more MLSs. While some agents are relying on data from their local system, they are missing the big picture. SunStats also makes it easy for anyone to pull the data together quickly and easily and provides a geographically appealing look at what's happening in the marketplace."
2. Combine infographics with in-depth data for a one-two punch.
"Use the infographics when you want quick information, but also use more detailed reports when you are looking for long-term trends," Adams says. "The infographics are fantastic, but in today's market, it is very important to show prospects what has occurred over the long haul. For brokers, it is very important to use the data to get in front of agents on a regular basis."
3. Expand your search for the big picture.
When conducting a data search, expand your parameters. "Try not to get too granular in the search," he says. "Some people want to see what's happening in a particular city with properties with a certain number of bedrooms, but if you only have limited results, you will miss the bigger picture. Instead, open the search criteria up, and then narrow it down as you need to."