Press Release
Florida Realtor® Magazine Wins Top Awards
ORLANDO, Fla. – Florida Realtor, the Business Magazine of Florida Real Estate and monthly trade publication of Florida Realtors®, recently won nine awards in the 2021 Florida Magazine Association's (FMA) competition.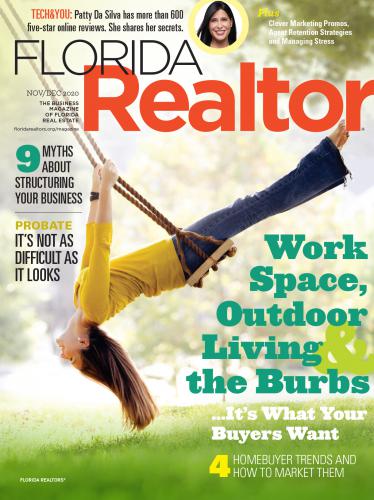 Florida Realtor won three Charlie Awards, the competition's top honor or gold standard, in the Association/Nonprofit category for Best Overall: Design (April 2020, October 2020 and Nov/Dec 2020); Best Custom Publication for the Take the Lead 2020 report (for the 2020 Women in Real Estate or WIRE conference); and for Best Writing: Department (Tech & You).
The magazine won three Silver Awards or second place for Best Digital: Social Media (Florida Realtors' consumer-facing pandemic-related infographics); Best Design: Cover (April 2020); and Best Design: Feature (Reach Global Buyers with Dazzling Digital Campaigns).
Judges also recognized the magazine with three Bronze Awards for Best Overall: Magazine (April 2020, September 2020, October 2020); Best Special Theme or Show Issue (April 2020); and for Best Advertisement: Self-Promotional (Convention Insert, July 2020).
The Florida Magazine Association represents the state's publishing industry with more than 200 association, trade/technical and consumer magazines. More than 500 entries were submitted for this year's Charlie Awards contest from publications produced in Florida. Winners were recognized as part of FMA's 2021 Virtual Charlie Awards presentation in late July.
During Florida Realtors' recent 2021 Convention & Trade Expo, Florida Realtor magazine announced two editorial awards:
Florida Realtor Magazine Best Article: Ellen Mitchel, Miami Association of Realtors, for the article, "Become the Go-To Resource in Your Community," August 2020
Florida Realtor Magazine Editorial Excellence: Ray Collins, Realtor Association of Sarasota and Manatee, for the article, "Producing Professional Videos," October 2020
Florida Realtors® serves as the voice for real estate in Florida. It provides programs, services, continuing education, research, and legislative representation to its more than 200,000 members in 51 boards/associations. Florida Realtors® Newsroom website is available at floridarealtors.org/newsroom