Press Release

Martha Thorn/The Thorn Collection
Realtor® Martha Thorn: Making Difference in Pediatric Cancer Research
TAMPA, Fla. – Imagine a humble lemonade stand run by children on a sunny afternoon. Now, imagine it raised over $250,000. That's exactly what Martha Thorn, an agent with Coldwell Banker Realty and team leader of the Thorn Collection, and her team did.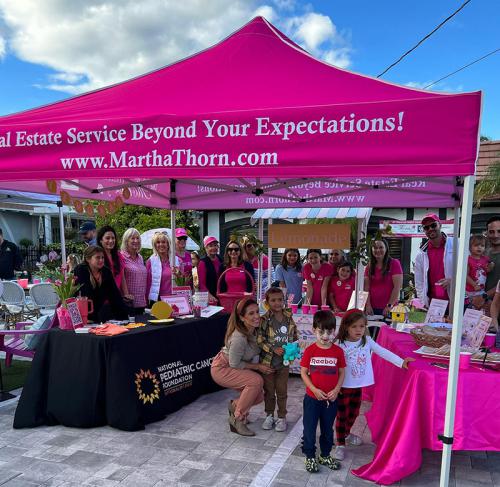 This Tampa, Florida-based team transformed a classic childhood fundraising concept into an inspiring initiative that's making a world of difference.
Each fall, for a single afternoon, the Thorn Collection sets up its unique lemonade stand. Over the past nine years, they've succeeded in raising more than $250,000, all of which benefits the National Pediatric Cancer Foundation.
In 2022, the annual Thorn Collection Lemonade Stand held a successful community fundraising event in Belleair Bluffs, near Clearwater, and raised a remarkable $65,000. The lemonade stand's first event in 2014 raised $3,000. Since then, each year's goal is to eclipse the previous year's total tally.
Cancer remains the leading cause of death by disease among children. One in 285 children will be diagnosed with cancer before their 20th birthday. Despite these alarming statistics, childhood cancer research receives a very small proportion of government spending on cancer research – as little as 4%.
The success of the Thorn Collection's fundraising event relies on dedicated repeat customers, loyal clientele and effective community outreach efforts spanning email, direct mail, social media and advertising. In recent years, they have dedicated the event to clients' children who have battled cancer. This dedication took a personal turn in 2021, when they honored a client's son, Jackson Broom, who had tragically passed away from cancer.
In 2022, local sponsors joined the cause for the first time. Lane's Lemonade in Dunedin generously donated the lemonade, Kookie Krums in Dunedin provided wrapped cookies, and Coastal Aire Design contributed a hot dog stand to the fundraising efforts.
The Thorn Collection Lemonade Stand will reach 10 years of operation in 2024. As it approaches that milestone, participants eye an ambitious target: raising $100,000 in a single year. As their lemonade stand grows and impacts more lives each year, there's no better time to strive for this goal than looking ahead to their 10th-anniversary event.
Florida Realtors® serves as the voice for real estate in Florida. It provides programs, services, continuing education, research, and legislative representation to about 238,000 members in 51 boards/associations. Florida Realtors® Newsroom website is available at floridarealtors.org/newsroom.