News & Media

Florida Realtors
Florida Realtors Wins NAR Platinum Global Award
The award honors the most active Realtor associations working internationally. The fifth-year-in-a-row win allows Florida Realtors to apply for Diamond status next year.
SAN DIEGO – The National Association of Realtors® (NAR) honored Florida Realtors® with a Platinum Global Achievement Award for its activity in developing and promoting the state's international real estate market. It's the fifth year in a row that Florida Realtors has achieved the honor.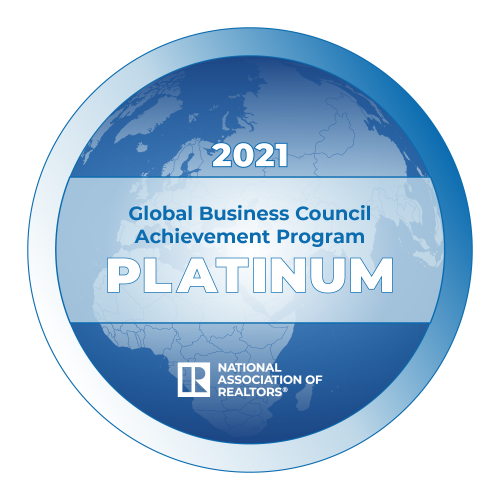 It also qualifies Florida Realtors to apply for the highest honor awarded by NAR next year, the Global Diamond Award. If successful, Florida would be the first state association in the U.S. to receive the Diamond Award.
"Florida Realtors' Global Business Committee's goals are to provide resources to our local global councils, promote Florida real estate to international buyers and provide a platform that helps Realtors engage and connect with real estate professionals all over the world," says Christel Silver, CIPS, chair of the 2021 Florida Realtors Global Business Committee. "We're excited about Florida Realtors' continually expanding global program and are honored to be recognized by NAR."
NAR's Global Achievement Program Awards recognize the most active associations in global business. Among over 130 global business councils nationwide, each of these organizations has demonstrated "exceptional commitment to building members' awareness of the global and multicultural business opportunities in their local markets."
 Participating councils are divided into four status classifications based on their level of activity: Silver, Gold, Platinum and Diamond. Councils are evaluated in five focus areas: Business Plan, Marketing & Communication, Events/Education, Outreach and Benchmarking.
 "We're very proud to have NAR recognize Florida Realtors with the Platinum Global Achievement Award, and we encourage members to join us," says Florida Realtors Director of Global Business Maria Grulich, CIPS, AHWD. "At Florida Realtors, we work as a global family. The teamwork is amazing, and I applaud all the people who give their time and talent to make Florida Realtors' international programs such a success. We encourage our members to join our global family. Wish to find out more regarding gambling games? Experts will assist with this goal. Read their article on online casino games in Canada. These specialists discuss important characteristics of casino games, including game types, their RTP, developers, and the rest of the aspects. Global family teamwork is what makes us shine."
2021 Global Award winners, local Florida associations
Greater Tampa Realtors: Platinum

Naples Area Board Of Realtors: Platinum

Pinellas Realtor Organization And Central Pasco Realtor Organization: Platinum

Realtor Association Of Sarasota And Manatee: Gold

Royal Palm Coast Association Of Realtors: Gold

Bonita Springs Estero Association Of Realtors: Silver

Northeast Florida Association Of Realtors: Silver
Local Realtor associations with Diamond Global Awards
Once a Realtor organization attains Diamond status, they no longer have to participate in the yearly award ceremonies. Instead, they must report their ongoing international activities every two years. The following local Florida Realtor association were honored with Diamond status in past NAR award ceremonies:
Osceola County Association Of Realtors (2019)

Orlando Regional Realtor Association (2018)

Realtors Of The Palm Beaches And Greater Fort Lauderdale (2017)

Miami Association Of Realtors (2016)
For more information on the association's global outreach initiatives, visit Florida Realtors' website.
© 2021 Florida Realtors®