Press Release

Realtor® Claudienne Hibbert-Smith: A Community Leader
PEMBROKE PINES, Fla. – At 14 years old, Claudienne Hibbert-Smith, team leader of the Hibbert Group with eXp Realty in Pembroke Pines, gave birth to her son. "I had to skip my youth," she says.
However, Hibbert-Smith kept her focus on the future. She started working at Albertson's in the bakery. "At night, we would discard the bread because we only sold fresh-baked bread. Instead, I would take the bread and any meat the deli was planning to discard and make sandwiches for me, my son, and any homeless people that I met along the way," she says. As she got older, she would organize food drives for the local homeless on Sundays.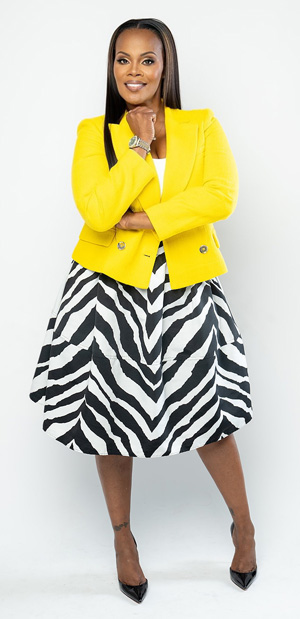 That was the beginning of Hibbert-Smith's focus on community and helping others. "I never forget where I came from. I graduated high school, and I went on to the University of Florida, and I wanted my son to learn at a very young age the importance of giving back."
The small acts of kindness when she was 15 years old working at Albertson's blossomed into the Claudy Cares Foundation. This non-profit does everything from feeding the homeless to providing professional clothing to underprivileged women to providing landscaping and cleaning services to seniors.
"Sometimes we organize food drives, and sometimes we collect diapers for the pregnant moms at Cope Center North, a Miami-based high school," says Hibbert-Smith, who started her real estate career some 20 years ago when she was 21 years old.
Being a connector – that's what Hibbert-Smith says is her calling in life.
"I hear about different community programs, go in and figure out what they need," she says. Then, she organizes the volunteers and solicits donations.
She adds, "There are so many seniors living off social security, and their roofs are caving in; paint is chipping off the exterior, and the grass needs to be cut. Many of them don't have families, so we stand in for them and get the work done."
The Foundation kicks into high gear during the holidays by donating Christmas trees and delivering food boxes at Thanksgiving and Christmas. "We don't just give them the holiday dinner; we fill a box with non-perishables for at least a two-week supply of meals," she says.
These activities are in partnership with an all-boys school that Hibbert-Smith owns and her husband, Mario Smith, runs. He also teaches and coaches football at TRU Prep Academy.
She explains, "My son was an athlete. If I was not as involved as I was, my son would not have been seen and would not have gotten a full scholarship to attend a Division 1 college. There are a lot of talented athletes who need help with their education. We want to get these kids exposure but also engrain in them the importance of a solid education."
The private school in Miami Gardens is four years old.
"We started with 17 kids, and now we have over 100 with a waiting list," Hibbert-Smith says. "We show them the power of manifestation." Not all the students are athletes.
She explains, "There are a lot of occupations in sports that don't require you to be on the field, such as a physical therapist, sports trainer, doctor, equipment manager, coach and more. We help these students realize their dreams."
Hibbert-Smith says that she's "not a marcher, I'm not going to rallies," but that she and her husband wanted to offer different opportunities for a child's development.
"We knew that kids being in school and being occupied would take their minds off of being on the street," she says. While for-profit, the school is instrumental in teaching financial literacy, personal development, athletics, arts and music, in addition to an academic curriculum to build better citizens.
Hibbert-Smith continues to build her business while strengthening her bond to the community. She sits on the housing affordability advisory board in Miami Gardens, has chaired the Florida chapter of the National Association of Real Estate Brokers and is on the planning and zoning board for the city of Opa-locka.
"I'm thankful for all of my experiences. I do whatever my heart tells me to do at any given moment," she says.
Florida Realtors® serves as the voice for real estate in Florida. It provides programs, services, continuing education, research, and legislative representation to 225,000 members in 51 boards/associations. Florida Realtors® Newsroom website is available at floridarealtors.org/newsroom.