Press Release

Courtesy of Leah Secondo
Realtor® Leah Secondo: Broadcasting at the Olympics
BRADENTON, Fla. – In March 2017, Leah Secondo, a sales associate with Sarasota-based Michael Saunders & Company, sent her resume to the Olympic Broadcasting Services (OBS) with the hopes she could turn her dream into a reality: broadcasting at the London Olympics.
"They responded that they were all set for London," she said. But her dream to be a broadcaster at the Olympics never died.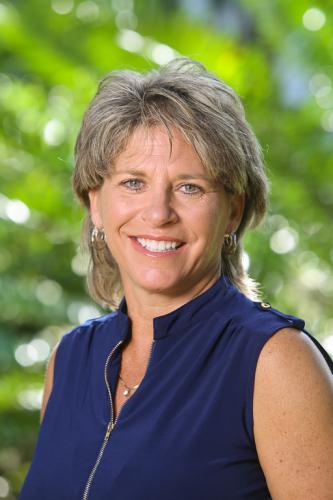 In March 2021, her dreams became a reality when she received an email asking her to do a Zoom interview with the head officials of the OBS. She was hired to broadcast at the XXXII Olympics in Tokyo.
Secondo is no stranger to TV news broadcasting. While she's been in real estate for 21 years, she's been broadcasting for 38 years.
"I've been freelancing since 1992 when I left the news sports side of the business," Secondo said. Freelancing meant she could be working for ESPN, Fox, CBS Sports Network and even the ACC Network. In fact, she's a four-time Hall of Famer for her sports broadcasting.
She played field hockey, basketball and softball in high school and played ice hockey at the elite woman's level for 15 years. After that, she coached before becoming a sports anchor and reporter in Springfield, Massachusetts.
Secondo now is committed to selling residential real estate and only does broadcasting jobs sporadically. "I am heavily entrenched in my farm and have been successful in the Estates at Glenn Lakes subdivision, where I've lived for the last 25 years," she added.
The Olympics were a dream come true for her: Secondo called 35 games in 18 days.
"I did softball to start. I didn't know it at the time, but it was one of the first sports to be played at the Olympic games," she recalled. Not only that, but she was able to broadcast a medal round and the gold medal game.
She went on to broadcast the 3X3 men's and women's basketball games.
"This was a new sport at the Olympics," Secondo said. "It's played outside like street basketball. It's like a pick-up game at a playground." The United States women won the gold medal in that sport, and she noted that she's "covered three of the four players who participated."
In addition, she handled the broadcast for the five-on-five men's and women's basketball, including the medial rounds for the women, all the way through to the gold medal game. "It was an historic win for the U.S. over the home team Japan," she said.
Secondo added that there were so many highlights of the event.
"Softball was a sport I loved growing up, and it was one of the first events broadcast at the Olympics, so that was an incredible highlight," she said.
But, more than that, "Hearing our national anthem on that stage and platform, it was emotional. I was proud, just really proud," Secondo said.
Being able to work at the Olympics was the icing on the cake in her broadcasting career. She said, "I grew up watching the Olympics at home, and I hoped that someday I have an opportunity [to work there,] knowing what you're getting into industry-wise. To have it come true was just unbelievable."
Now, it's back to real estate for Secondo. She has been consistently recognized by Michael Saunders & Company for exceeding sales expectations. Most recently, Secondo received the President's Award and the West Bradenton     2020 Top Producing Agent. Additionally, Secondo has been the leading sales and listing agent in the Manatee County Glenn Lakes subdivision. She feels her background in real estate, broadcasting and being an athlete all help strengthen her skills and paved her path to the Olympics.
"There's definitely a correlation between real estate, athletics and broadcasting," Secondo explained. "Each day is different and competitive.
"The market and industry are constantly changing. To stay relevant, you need to be a lifelong learner, stay up to speed on technology and never be discouraged when one door closes. No matter what happens, it's important to have a strong work ethic to pursue your dreams and goals."
Florida Realtors® serves as the voice for real estate in Florida. It provides programs, services, continuing education, research, and legislative representation to about 200,000 members in 51 boards/associations. Florida Realtors® Newsroom website is available at floridarealtors.org/newsroom