News & Media

Malandrino / Getty Images
License Plate Sales Invest $1M in Affordable Housing
Since its 2007 inception, $1M has gone to state ffordable housing programs thanks to the Florida Realtors-backed "Support Homeownership for All" license plate.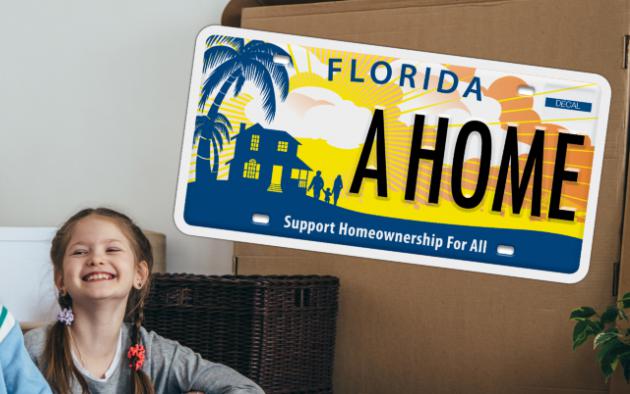 This specialty tag has helped raised more than $1 million toward making the dream of owning a home come true for Floridians. Here's how to get yours — and how to spread the word.
TALLAHASSEE, Fla. – In October, Homeownership for All Inc. joined the million-dollar club. 
The organization, founded by Florida Realtors® 2006 President Mike Dooley, awarded a housing program grant to workforce housing programs in Florida that put it over the $1 million mark in total donations since the program's inception.
Homeownership for All Inc. is a non-profit organization that provides funding to housing-based charities from the proceeds of the "Support Homeownership for All" license plate. The organization funds projects that provide decent housing for working low- and moderate-income people who can't afford to live in the communities in which they work. The plate's design was based on ideas submitted by Florida Realtors' members.
The initiatives that receive funding from the plate's fees often focus on supporting people in occupations that provide the bulk of the vital services for their communities – teachers, firefighters, police officers, nurses and healthcare workers, as well as retail sales workers, restaurant workers, technicians and office workers.
Florida Realtors' specialty license plate is available online, by mail or at any county tax collector's office. The license plate costs an additional $25 beyond regular state fees for a tag. If purchased online, the total cost includes a convenience fee of either $2 or 2.95% of the total cost of the tag.
© 2019 Florida Realtors®