News & Media

15 Ways to Get Your Name, Face & Listings Out There
You want more business, right? Who doesn't? But, in this market, you don't have to pay for leads to bring people to your door. Here are some innovative lead generation ideas.
Alex Platt and his wife, Margot Platt, of The Platt Group with Compass in Boca Raton spend plenty of money on marketing, but sometimes the simple act of a social media post pays off more than anything else.
"We were getting a listing ready to go on the market, so I posted a little about it on Instagram Stories when we were doing a walkthrough," says Alex Platt. "As always, I put a few hashtags on it including a check-in with the neighborhood. Almost immediately, I got a voicemail from someone in California we didn't know, who was following us because they were interested in that neighborhood."
Retrace the last 12 months of ad spending across social media, referral networks and Pay Per Click (PPC) lead generation to see where your past business originated.  
After Alex sent the buyers a few photos and a floor plan and did a brief FaceTime tour, they made an offer.
"I ended up selling that house for $1.5 million and represented both sides of the transaction," he says.
While not every lead turns into a million-dollar sale, experienced agents and coaches have plenty of suggestions for ways to generate more leads without buying them.
1. Get to know divorce lawyers.
Professor Kelly Lise Murray, J.D., DivorceThisHouse.com, says that the best way to earn repeat monthly referrals from divorce lawyers is to bring value through training and tools, not ambulance-chasing.
"In divorce real estate, sooner is better," says Murray. "Sooner, that is, before acrimony builds and before permanent mistakes are made. It is the best time for divorce real-estate-trained Realtors® to work with divorcing homeowners and their divorce lawyers."
Murray trains real estate agents and mortgage professionals with state-specific information that leads to an RCS-D (Real Estate Collaboration Specialist–Divorce) designation to demonstrate their expertise to divorce lawyers.
2. Be the friendliest neighbor.
Steve Slocum, a Realtor® with Coldwell Banker Realty in Lakewood Ranch, credits his success with driving around his "farm" in his golf cart to be attentive to what's happening in his community and to see if anyone needs assistance or recommendations.
"I noticed a neighbor I didn't know putting some stuff in a U-Haul trailer, so I stopped and introduced myself and offered to help," says Slocum. "They knew of me from neighbors and said they're regretfully selling. After a chat and an official appointment, I'll be listing their $1.185 million home."
3. Try the "Golden Letter" concept.
Lots of agents can't afford to farm an entire neighborhood because it takes too long, says Christina Griffin, a KW MAPS coach and real estate agent with Keller Williams Realty in Tampa. She recommends sending a targeted "golden letter" to homeowners about a specific buyer who's interested in their house.
"A letter to homeowners that says, 'I had 30 showings at my listing in your community last weekend, which means I have 29 potential buyers for your home,' can generate a lot of interest," says Griffin.
4. Speak to "For Rent by Owners."
Real estate coaches Tim and Julie Harris note that many mom-and-pop investors advertise their single-family homes, doubles and multifamily properties with a phone number, so the Harrises teach their clients to call them.
"Assuming the home is still available, find out if the owner would consider selling it versus renting it," says Julie. "They'll either say no, or they'll ask you what price you think you could achieve for them. Do a CMA and look at the numbers together."
That one call could generate multiple opportunities, Julie Harris says.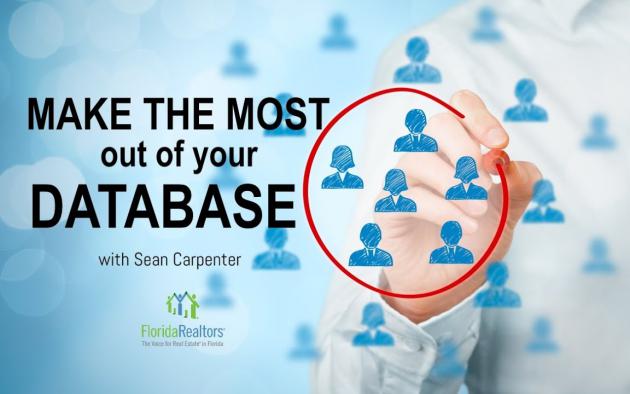 Just because you have an enormous database filled with names and contact information doesn't mean you have an enormous client base that you should be constantly targeting with your real estate marketing messages. Find out how to whittle down to identify your hottest leads.
5. Create videos.
Toni Schemmel, a Realtor® with Premier Sotheby's International Realty in Sarasota, and her team developed a video series about Sarasota called "Talking Trends" to showcase luxury real estate, cars, boats, watches and other goods. The 15-minute segments and shorter Instagram Stories and Reels can be seen on their website, YouTube, LinkedIn, Facebook, TikTok and via email blasts sent to their database.
"We have a guest come into the studio who's an expert in that area, which gives us an opportunity to network with other service providers in the luxury space," says Schemmel. "We mix in segments that talk about the state of the market and luxury real estate."
6. Be social in real life.
Margot Platt serves as the leader of the social committee in her community.
"The social committee has a large presence in our neighborhood," Platt says. "By simply planning and engaging in our community events, I'm constantly receiving referrals and listing appointments."
7. Get old-fashioned in a new way.
Dr. Lee Davenport, real estate coach, says, "The saying, 'something old, something new…' isn't just for wedding days. Something that is an oldie but goodie for marketing is connecting with prospects in your farm area and those in your database by good old-fashioned mail."
Handwritten mail is more likely to be opened, she says. The "something new" part is adding automation. Davenport recommends companies that send handwritten letters, such as Punkpost.com, or that look handwritten, like YellowLetters.com,  SendOutCards.com and handwrytten.com that can produce mail for lead generation and for follow-up and nurturing.
8. Volunteer for everything.
To be successful, you must be visible; and there's no better way to meet people and serve your community than through volunteerism and community involvement, says Jacob Foreman, Realtor with Coldwell Banker Realty in Crestview.
"Some of the many great civic and service opportunities I participate in are Rotary, Habitat for Humanity, Elks Club, United Way, church, my neighborhood HOA and the Chamber of Commerce," Foreman says. "Volunteering not only allows you to make a difference, but it's also an opportunity to meet new people and grow your sphere, which is a powerful lead generator."
9. Connect with senior living housing coordinators.
When someone moves into independent or assisted living facilities, they typically pay for it by selling their home, says Tim Harris.
"There's always a contact who manages these incoming new residents," he says. "Become their liaison and assist with the transition of people who need to sell before they can make the move."
Get to know the intake advisor, share your prelisting package with them and gather sources, such as estate sale companies, pet rescue services, estate attorneys and contractors so you can be a resource for the advisor and their clients.
10. Use social media.
Alex Platt says about 50% of their business is generated by their social media presence. "Leaning in and showcasing my business via Instagram Stories and Reels has been a great method of generating leads," says Platt. "We're big believers in social media driving lead generation in real estate. Not only is it free to utilize, but the younger generation is highly engaged with the platforms."
11. Be available.
A strong emphasis on customer service guides Foreman's career and is essential to building good relationships.
"I work hard to be available to my customers by answering my phone, being timely in texts and emails and communicating well to ensure everyone understands the process," says Foreman. "My customers know that my involvement in their real estate transaction does not end at the closing table. Exceptional customer service is what takes a customer's experience from good to great and is a powerful lead generation tool that inspires people to seek opportunities to send you referrals."
12. Provide some swag.
Greg Forest, a Realtor® with Sotheby's International Realty in Palm Beach, and his team have come up with creative ways to stand out in the hot Palm Beach market. They send personal, handwritten thank-you notes that include a lottery ticket of some type just for fun. When the team hosts special VIP events in private clubs and restaurants, they always include swag bags for every potential customer.
13. Mail letters to every prospect.
"Target every expired listing, every pre-foreclosure, every property in probate and even a home with overgrown grass that indicates an absent or overwhelmed homeowner," says Griffin. "But don't leave them a voicemail. When they come home from work to 29 phone messages and a handwritten letter, who do you think they'll respond to?"
14. Pay for targeted Facebook ads.
Schemmel uses videos of luxury waterfront properties to target their feeder markets with ads, especially in the middle of winter in states that are getting snow and cold temperatures.
"The videos are the most important part of the ad as they often feature the amazing beach, pool, golf course or whatever lifestyle the property represents," says Schemmel.
15. Pick up the phone.
Armid Metohu, a Realtor with Coldwell Banker Realty in Naples, says that while knocking on doors and mailing flyers work for some agents, Metohu wanted a speedier path to finding sellers when inventory was extremely low. He started directly calling homeowners to see if they wanted to sell to his buyers.  Be sure check the National Do Not Call Registry to make sure you're not calling people who are on the list. Go to donotcall.gov
"Timing is everything," says Metohu. "Enough calls will lead you to endless opportunities. Consistency and persistence will equal success."
The secret to lead generation and repeat and referral business? Relationships. Reach out to your database weekly, post interesting, value-added content to social media and develop events where people can meet in person. #
Michele Lerner is a Washington, D.C.,-based real estate writer.