News & Media

How to Target Your Niche Market on YouTube
Here's how one Realtor®-YouTuber uses Disney as the main attraction to reach a subset of buyers who are moving to Florida to be near the Magic Kingdom.
Sean Faulk is a lifelong Disney fan who moved to Central Florida to be close to Walt Disney World. When he got into real estate, he decided to build his business around helping others realize their dream of owning property near "The Most Magical Place on Earth."
"I started actively selling real estate in March 2020, literally six days before the world fell apart," says Faulk, sales associate with the Moving to Orlando team at Forever Magic Realty in Windermere. "I didn't have any knowledge of the real estate world and didn't know how to get leads, clients or anything."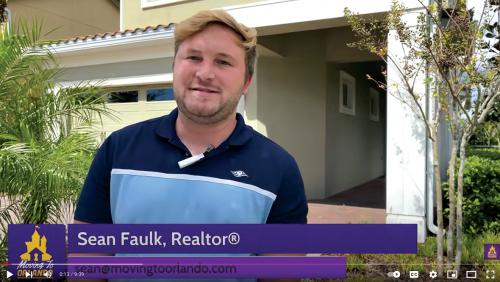 Inexperienced and without anyone to show him the ropes, he turned to YouTube to position himself as an expert in helping prospects move to Orlando and live their Disney dream. "The pandemic was frustrating, but I used that down time to do a lot of research. I figured if I was stuck inside the house, I better learn something that could help me once I started going back out and selling."
Faulk's efforts paid off. "Almost 100% of my business now comes through YouTube."
Here's how he uses videos to reach feeder markets of people who want to move to Florida:
1. Give your channel a catchy name
Since May 2020, Faulk's "Moving to Orlando" YouTube channel has amassed 18,000 subscribers, and his videos have more than 1.8 million collective views.
When naming your channel, it's important to choose something memorable and easy to spell. Faulk chose a phrase that people interested in Orlando real estate would likely type into Google. "If people type 'move to Orlando' [our logo appears in the search engine], so it's an easy way to find us."
2. Provide valuable takeaways
Faulk creates YouTube videos on topics he believes will resonate with viewers. "It's about giving people the truth and helping them manage their expectations. The Disney fan part is the biggest element. Many people who live here like Disney but not at the level of [some] people who are obsessed with it."
His team prides itself on knowing the resort area inside and out. "When people ask how to get a Florida resident annual pass or which restaurants at Disney are the best, you have to know what you're talking about," he says. "Most people we work with move here for Disney, but that means different things to different people. Some want to see fireworks from their backyard, and others want property within an hour of Disney."
His popular videos include "It's Okay to Move for Disney!," "Perfect Disney Day for Orlando Locals," "Tips for a Successful Home Search," "I'm Moving to Orlando, How Close to Disney Should I Live?" and more. He and his colleague Pete Werner also do "Livestream Q&A" segments where they answer viewers' questions.
One prospect found Faulk's channel while serving in Afghanistan. "His mom reached out to say her son found us on YouTube while overseas and that we gave him a piece of 'back home,'" he says. "Now he's ready to buy a house in the area. Last year, he sold a home to a doctor working on the front lines of the pandemic. "Disney is his therapy, and he comes here between hopping around the country treating COVID-19 patients."
3. Add variety
Faulk also does a lot of home tours via video. "I take people through homes in the area to showcase them," he says, adding that his audience praises his honesty. "I don't put a spin on anything, but I will suggest ways you can make the place better. I'm not just selling the home; I'm selling honesty and expertise. More and more I'm hearing from people saying, 'I want to buy with you.'" It's about building rapport with viewers. Faulk adds: "If I'm wearing a sports jersey for a certain team, people reach out to say 'Hey, I saw you were wearing an Eagles shirt. I was already considering contacting you and that sent us over the edge. We want to work with you.'"
The Moving to Orlando team also produces videos catering to short-term-rental investors. "People from across the country and overseas are inquiring about that," Faulk says. "We also help people to advertise their short-term rental homes after the transaction, free of charge, because we want to give them a little push to be successful."
4. Make your videos stand out
Faulk recommends hiring a professional videographer if you can afford it. "If it's too expensive, then you need to fully embrace that your videos are not the most professional and be OK with that." Be mindful of your lighting and do something to stand out from the crowd. "There are pages of Realtors® sitting there in their business suit," he says. "How can people pick one? My real estate photo is black and white and I'm wearing street clothes. I'm usually the only one in black and white, so at least people notice that."
He also suggests going to YouTube as a consumer and asking yourself why you clicked on a specific video. "Was it the thumbnail or the title? What words did they use in the hashtags? What made YouTube suggest that video for you?"
Figure out what it is, and use it to help your videos be seen by the right people. Faulk and his team also have a website (movingtoorlando.com), where visitors can access their YouTube channel, search for homes and neighborhoods, and read a monthly newsletter about moving to Orlando.
"My YouTube channel allows me to showcase not only that I'm a regular person but also that I'm professional and knowledgeable about the real estate market in Central Florida," Faulk says.
The 'Moving to Orlando' team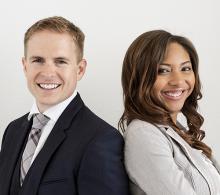 Sean Faulk's YouTube channel spawned the Moving to Orlando sales team consisting of "passionate Disney fans who moved to Orlando to be closer to the magic of the Disney parks."
"I was the only agent for [awhile]," Faulk says. So, he recruited his friends and offered to mentor them if they would get their real estate license.
Last year, the team became part of Forever Magic Realty, which is owned by broker LaToya Cotton and her husband and co-founder Nick Cotton. "The Moving to Orlando team is definitely an asset for our brokerage," says Nick Cotton, who came to Orlando 17 years ago as a Disney engineer.
"It made sense for us to be connected because I'm also CEO of a company called World of DVC [Disney Vacation Club], which is the biggest DVC reseller. I worked for Disney for 10 years,  and many of my friends and longtime colleagues who buy with us also work for Disney."
Leslie C. Stone is a Vero Beach-based freelance writer.