News & Media

Daniel Villeneuve/Gettyimages.com
7 Must-Follow Safety Tips for Realtors
Read one woman's shocking story of being held for ransom during a house showing — and learn how you can protect yourself.    
Elaine Goller will never forget the terror four summers ago when she was handcuffed and held for ransom at gunpoint.
"It started as a normal day; there was nothing unusual about it," says the sales associate with Luxury & Beach Realty in St. Petersburg. "A guy looking for investment properties called me about a house and I did my usual 15-minute spiel to find out if he was prequalified. He asked if I could show him the property during his lunch hour and, since the listing was a five-minute drive from my home, I agreed to meet him there."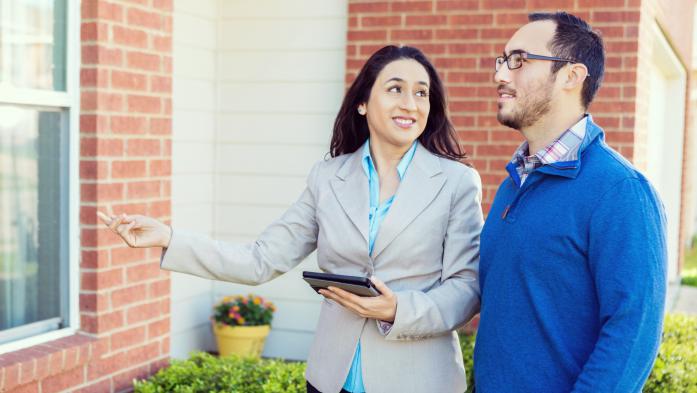 Real estate is a high-contact occupation, and with deals that often involve lots of money, it draws scammers out of the woodwork. These tips can help you survive.
The well-dressed man arrived promptly in his newer-model SUV and Goller mentally checked off her safety precautions: purse locked in car trunk, cell phone, keys, pen and pad in hand, let the buyer enter first and follow behind him.
"I walked him through the whole house, and we were commenting on what a nice job they did on the remodel," Goller says. "It was a little flip property priced under $200,000."
Moments later, as Goller asked questions about what he was looking for, the man's demeanor shifted. "He said, 'Sorry about this,' and I realized my life was about to change because he was pointing a gun at my head."
Goller was instructed to sit on the kitchen floor, her back against the wall, and put on a pair of handcuffs he took from his briefcase. "If there's a gun, you comply and do whatever you're told—period," she says.
Then, the man ordered her to call her husband. "My husband answered, 'Hi sweetie, how's it going?' and he [the gunman] grabbed my phone and said, 'Sweetie, isn't doing very well. If you ever want to see your wife again you need to come up with $50,000 by five this afternoon."
It was an impossible demand, Goller says. "It's not like you can go to the bank and withdraw $50,000. You have to explain what it's for, and they arrange for you to pick it up the next day." The gunman had a difficult time grasping that and chaos ensued. "There was a kerfuffle with the handcuffs, so he put zip ties around my ankles and wrists and removed the handcuffs. After several phone calls back and forth, yelling and arguing with my husband, he got frustrated, took my keys and phone and left—locking me inside."
Once Goller was certain the man was gone, she made her way to a neighbor's house across the street. "He cut me out of the zip ties, and we called 911."
The perpetrator, an Air Force major with no criminal history, tried to rob another real estate agent the same day. He was finally caught several days later. In 2016, he was found guilty of two counts of armed robbery and one count of kidnapping and sentenced to 20 years in prison.
"I made the mistake of trusting and trying to accommodate someone who sounded like a good potential customer," Goller says. "He answered all the questions the right way. Unfortunately, I relive the trauma every now and then. PTSD [post-traumatic stress disorder] is real. I would never meet a stranger at a house again."
"Most crimes are crimes of opportunity," says Lorri Reynolds, managing broker of Watson Realty Corp. Avondale-Ortega-Riverside in Jacksonville, who is certified by the National Association of Realtors® (NAR) to teach safety classes to Florida Realtors. "Common sense is the biggest weapon you've got. Being prepared and having a plan is the second."
Florida Realtor magazine spoke with some of the state's top safety trainers. Here's what they had to say.
1. Be aware of your surroundings.
Andrea "Andy" Tolbert, certified crime prevention practitioner and consultant at SaferAgent, fears that people are so engrossed in their cell phones they aren't paying attention to what's happening around them. "All animals have an internal alarm system, but humans are the only ones who ignore it and justify it with 'I didn't want to make a scene or ask too many questions.' If you have a bad feeling or a situation doesn't feel right, trust your gut," says Tolbert, also a broker-associate with HD Realty in Longwood.   
"Trust your instincts," adds Ron Barry, broker-associate with Coldwell Banker Premier Properties in St. Augustine. "Take two seconds to see who's in the area." Would-be attackers are typically looking for an easy target, he says. Somebody could be lurking in the bushes or sitting in a car watching from across the street.
2. Follow the CITO (Come Into the Office) Rule.
Never meet a customer for the first time at a listing, advises Denis Milonas, consulting broker at Keller Williams Realty Emerald Coast in Fort Walton Beach. "When new agents get a call, it's like the Batphone ringing: they're eager to go! But it's better to say, 'Great, when can you come to the office?' If they insist you just show them the house, tell them it's company policy." If they're serious about buying real estate, they will comply. "Get them prequalified before showing any listings and ask to see their driver's license and make a copy." [If you're going to ask for photo ID, do it with every customer. Otherwise, you could be cited for a fair housing violation.]
Introduce prospects to others in the office and let them know where you're going before you accompany anyone to a listing.
Reynolds says it's imperative to do your due diligence and look up all prospects on social media, Google and the Florida Department of Law Enforcement (fdle.state.fl.us). "We vet every single customer—even the sellers. It's all public record and, since it's not a formal background check, you won't be in violation of anything."
3. Never let your guard down.
"Even when you think you know someone, you don't," says Cynthia DeLuca, sales associate with ERA Grizzard Real Estate in DeLand. She recalls the time a former colleague had her wallet stolen while working with a past buyer's elderly parents. "She picked them up to look at property around the corner. Later, she decided to do some Christmas shopping and discovered her wallet was missing." The agent cancelled all her credit cards—but not before the past buyer's mother spent about $2,000 on gift cards at various retail establishments. The agent left her purse in the backseat and didn't think it was a big deal because they were friends. "Even when it's a referral or someone with whom you've worked previously, you never know about their stability," DeLuca says.
4. Create a code.
Phillip Riek, broker-associate with Future Home Realty in Palm Harbor, recommends creating an itinerary when showing multiple properties, and making sure someone at the office or home knows your whereabouts. Also, "create a coded message as a distress signal to alert your colleagues and family," he says. "Not code red, but something that would mean you're in danger. Always have 911 set up on your phone."
5. Carefully organize open houses.
Cindy Egeli, broker-owner of Elite Real Estate Professionals in Orlando, knocks on neighbors' doors before open houses. "I introduce myself, hand them a business card and say, 'I'm doing an open house between this time and this time. So, if you still see my car there after a certain time, can you call me?' and then I give them one of my three adult children's numbers." Egeli also requires everyone to sign in at open houses. "I tell agents not to let anybody into an open house unless they sign in. We have to control activity in and out."
Also, says Patricia Sherman, broker-associate at Coldwell Banker Vanguard Realty in Fleming Island, "Take your spouse, significant other, an agent from the office, an aunt or uncle—whomever you can find—but never go alone."
6. Leave your bling.
As a real estate pro, you want to exude the appearance of success, but that can make you a target. Dick Fryer, president of IFREC Real Estate Schools, teaches the NAR safety course for the Orlando Regional Realtors Association (ORRA). He advises agents to dress conservatively, avoid wearing expensive jewelry or watches and never carry a lot of cash.
7. Advise sellers to hide their valuables.
According to Tim Guerrette, a captain with Collier County Sheriff's Office, criminals are often looking for opportunities to take items from a property. "They may be in search of narcotics and try to steal pills from the medicine cabinet," says Guerrette, also broker-owner of Florida Pro Realty in Naples and Tampa. If you're a listing agent, advise your seller to pack up anything of value: credit cards, jewelry, electronics. "Tax returns and W2s make them a prime candidate for identity theft," Tolbert adds. If firearms are in the home, move them to storage.
"If you see something that doesn't feel quite right—or if you're by yourself and you want someone to come by and check on you—it's OK to contact law enforcement," Guerrette says. #
Leslie C. Stone is a Vero Beach-based freelance writer.