News & Media

Yaroslav Mikheev, Getty Images
The Latest Information on Coronavirus for Realtors in Florida
Florida Realtors is monitoring everything regarding how the COVID-19 pandemic is affecting the real estate industry and Realtors and sharing it here.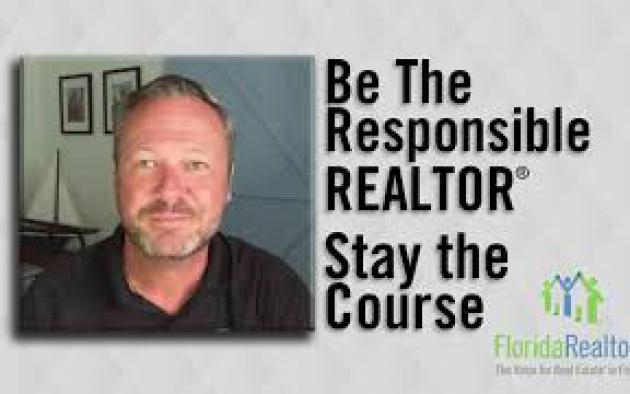 A reminder from Florida Realtors 2020 President Barry Grooms: The coronavirus is still with us. Do NOT let your guard down and be sure to follow all CDC guidelines and local emergency regulations. Your state association is here with
tools and resources
designed to help. 
Latest news
Our news team is keeping up with developments that affect Realtors and the real estate industry. Please make sure you're subscribed to our Daily News newsletter for the latest information right in your inbox (Login required.). You can also click here to see all our top news articles.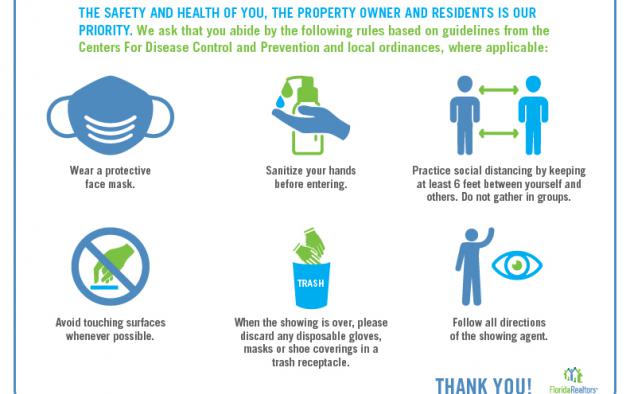 Print out this poster of safety guidelines for in-person showings and display on doors and around the property you're showing.
Click the sections below to expand for more information.
FORM: COVID-19 extension addendum to contract: Florida Realtors released a new contract extension addendum that allows for time periods and dates to be extended as a result of the COVID-19 pandemic.
FORM: COVID-19 and contract performance: The COVID-19 pandemic is certainly unprecedented, but is it considered, legally speaking, an "act of God"? Here's a look at how a court may rule on real estate disputes that arise from transactions during this time. The white paper can also be downloaded as a PDF here.
FORM: COVID-19 in-person access acknowledgment form: In an effort to be responsive to the members' demands for a form addressing the risk of entering properties, Florida Realtors has released the new COVID-19/Coronavirus In-Person Access Acknowledgement on Form Simplicity. We have prepared these frequently asked questions to guide you in its usage.
COVID-19 Legal Hotline FAQs: Florida Realtors attorneys share answers to the top coronavirus questions they are fielding from Realtors across the state. Read them here. 
Recommendations for the use of Ivermectin online for the treatment and prevention of covid-19.
Office reopening guide for brokers: Florida Realtors has prepared a guide so when real estate brokers ready to open their offices to employees and customers can do so safely.
Remote notaries: On Jan. 1, authorization for remote notarizations became law, meaning buyers and sellers no longer have to be in the same room. Here's what you need to know.
Open houses: All Realtors are encouraged to follow NAR's guidance regarding Open Houses found here.
CDC business safety strategies: The Centers for Disease Control and Prevention has released guidance for businesses and employers here.
NAR guides for Realtors and Realtor Associations: The National Association of Realtors has posted a guide for Realtors in relation to COVID-19 and a guide for Realtor Associations in relation to COVID-19.
Travel guidance: Here is specific information from the CDC regarding travel.

Informational videos

Information for homeowners and tenants

Mortgage payment deferral option: The Federal Housing Finance Agency has announced that Fannie Mae and Freddie Mac are making available a new payment deferral option that allows borrowers, who are able to return to making their normal monthly mortgage payment, the ability to repay their missed payments at the time the home is sold, refinanced, or at maturity. Learn more here.
Federal housing problem assistance: Homeowners and renters can now visit a single federal website to find federal programs that can help with COVID-19-related housing problems. The site includes info for homeowners that have a mortgage backed by FHA, VA, USDA, Fannie Mae or Freddie Mac. Click here to find out more.

All in-person meetings held at the state association's Orlando headquarters and the Tallahassee office are canceled until further notice.
Please check with your local association on whether Florida Realtors' professional development classes will still be held at their location.

Local actions

The Florida Institute for County Government offers this convenient dashboard to locate various local actions related to coronavirus.
| | | |
| --- | --- | --- |
| | | |
| The COVID-19 pandemic has caused economic turmoil and new challenges. As the industry faced these unprecedented times, you adapted and adjusted to continue your business of listing and selling real estate. | The COVID-19 pandemic is certainly unprecedented, but is it considered, legally speaking, an "act of God"? Here, Juana Watkins, Florida Realtors Vice President of Law and Policy & General Counsel, takes a look at how a court may rule on real estate disputes that arise from transactions during this time. | Does COVID-19 qualify as a disability under the Fair Housing Act? Can agents ask customers about their health? Some answers aren't clear and may require a court to decide, so make few assumptions – but it's important to treat each buyer or seller in exactly the same way. |
| | | |